Will Apple Gamble on a Cheaper iPhone?
Many analysts have argued that Apple (NASDAQ:AAPL) must release a low-price version of its popular iPhone in order to compete with cheaper phones from other companies, especially in emerging markets like India and China. However, is it worth the risk to Apple's reputation as a high end phone maker?
According to IDC statistics via Bloomberg, India will become the "third-largest smartphone market by 2017." However, most of India's population lives on less than $2 a day, which puts premium Apple products at a distinct price disadvantage.
Although Apple's latest iPhone 5 model is still selling strong, Daniel Eran Dilger at Apple Insider notes that Apple should probably "more aggressively target the low end of the market." On the other hand, Apple also has a reputation for only making high quality products with high profit margins. However, Dilger notes that releasing a cheaper iteration of a successful device is not without precedent in Apple's history. Three years after Apple first released the iPad, the Cupertino-based company unveiled the cheaper and less profitable iPad mini.
Dilger also points out that this phenomenon is not limited to the iPad. Soon after it released the original iPhone, Apple slashed the price by $200. Apple unveiled the low-price iPhone 3G barely one year later, which it offered for as little as $199 with a service contract.
Unfortunately, emerging markets tend not to use carrier subsidies, which make Apple's devices less competitive in those markets.  Indian phone makers, Micromax and Karbonn follow the local convention of subsidizing monthly data plans, rather than subsidizing the cost of the device reports Bloomberg. According to Gartner statistics via Bloomberg, nearly 75 percent of the mobile phones used by Indians cost less than about $46.
Apple is also at a disadvantage in Europe's prepaid markets. In Europe, Apple devices are considerably more expensive than phones using Google's (NASDAQ:GOOG) Android platform, as well as low end devices from Nokia (NYSE:NOK) and Blackberry (NASDAQ:BBRY). Apple's iPhone 4 costs over $520 in France and about $450 in the UK reports Apple Insider.
Although Apple has traditionally focused its ambitions on the high end of the phone market, Dilger believes that a low-price iPhone would greatly help Apple dominate the lucrative developing markets in China and India. As Dilger points out, creating a discount iPhone would not be without precedent. Apple was successful in integrating the low-price iPad mini and cheaper iPod into its ecosystem. On the other hand, the attempt to introduce the low end Mac mini in 2005 was less than successful.
Apple must decide if the potential value of the world's emerging and prepaid markets are worth the risk of introducing a cheaper version of its iPhone.
Here's how Apple traded throughout the week.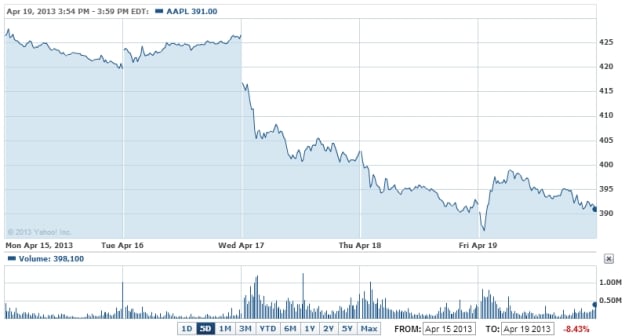 Don't Miss: Is the iPhone Driving All Smartphone Sales Growth?