Will Apple Halt DoCoMo's Hemorrhaging?

Apple (NASDAQ:AAPL) investors were understandably pleased when the Cupertino-based company recently announced that it had finally struck a distribution deal with NTT DoCoMo (NYSE:DCM). As Japan's largest carrier with over 60 million subscribers, the deal with DoCoMo is expected to increase Apple's already substantial market share in that country.
However, it appears that DoCoMo may benefit from the new iPhone distribution deal even more than Apple will. According to a survey conducted by Kantar Japan, 66 percent of DoCoMo's former customers ended up purchasing an iPhone from one of the carrier's rivals, reports TheNextWeb.
Although DoCoMo has a 45 percent share of Japan's smartphone market, it has also been adding users at a much lower rate than SoftBank and KDDI – rival carriers that both already offer the iPhone. Despite not having a deal with DoCoMo until now, Apple's iPhone is the top selling smartphone in Japan — a fact noted by Tim Cook in his distribution deal announcement.
This may have been one reason why DoCoMo was reportedly willing to compromise on its original iPhone quota demands. According to Bloomberg, DoCoMo CFO Kazuto Tsubouchi previously suggested that the Japanese carrier would offer Apple's iPhones only if it could limit the device's sales to less than 30 percent of the company's total handset sales.
However, a recent report from Japan's Nikkei newspaper via Apple Insider claims that at least 40 percent of DoCoMo's overall handset sales must consist of iPhones. Deutsche Bank analyst Chris Whitmore recently took a close look at the potential financial benefit that Apple would derive from a deal with DoCoMo.
As reported by Apple Insider, Whitmore believes that Apple has the potential to sell around 10 million additional iPhone units through DoCoMo. Here's how Apple closed out the trading week.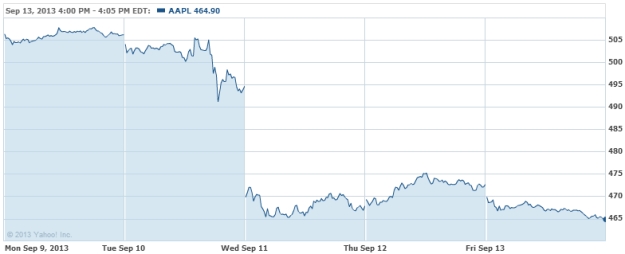 Don't Miss: Apple's High-End iPhone Meets High Fashion.
Follow Nathanael on Twitter (@ArnoldEtan_WSCS)