Will Apple Make its Devices Unbreakable?
Apple (NASDAQ:AAPL) has been awarded a patent for a revolutionary new way to protect your iPhone and other devices from damage in a fall. Last week, Apple was awarded U.S. Patent 20130073095, which is titled "Protective Mechanism for an Electronic Device." As described in the patent abstract, "The protective mechanism is in communication with the processor and is configured to selectively alter a center of mass of the electronic device."
As reported by Apple Insider, the technology essentially covers a process by which the device would reorient itself while in free fall in order to minimize any impact damage. Presumably this would primarily involve protection of the glass screens of devices like the iPad and iPhone.
The mechanism by which the device would change its orientation could be anything from "the movement of a weighted mass within the device, a means to 'grip a plug' to prevent a freefall, lift foils that can be extended out from the surface of a device, and a thrust mechanism such as a can of gas," reports Apple Insider.
Although many of the James Bond-like mechanisms for altering the fall of a device seem impractical given the small size of Apple's devices, the patent also functions as a way for Apple to protect its idea for "a method of protecting a vulnerable area of an electronic device … and selectively changing the orientation of the device via a protective mechanism depending on the estimated impact area of the device," as stated in the patent.
Although the patent was originally filed in September 2011, it was not awarded until March 21, 2013.
Apple closed down 2.08 percent at $442.66 on Thursday, at the end of a shortened trading week.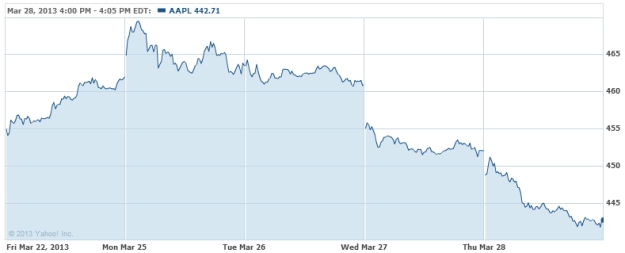 Don't Miss: Is Apple About to Destroy Pandora?