Will Apple Overtake Microsoft in 2013?
Sales of Apple (NASDAQ:AAPL) devices will soon overtake sales of devices running Microsoft's (NASDAQ:MSFT) Windows platform according to predictions from a major market research group. Tablets will outsell laptops and desktop computers by 2015, according to a recent report released by the market research group Gartner, via the Financial Times. Apple's iPad currently dominates the tablet market with over half of the market share.
Although Microsoft has an established foothold in the traditional corporate computer market, it may find its Windows operating platform becoming less important in the overall market as more consumers shift from desktop to mobile device usage. Gartner predicts that that the traditional PC market will decline by 7.6 percent this year alone.
However, other analysts have predicted that Windows-based device sales will fall below Apple device sales even sooner. Asymco Apple analyst Horace Dediu backs this assertion via the Financial Times, predicting that tablets will outsell desktop computers by the fall of 2013…
According to Gartner's predictions, Apple will sell approximately 233 million devices in 2013. Devices running Microsoft's Windows are predicted to only reach 181 million this year. As reported by the Financial Times, consumer sales of Apple's iPhones, iPads, and Macs reached 159 million last year. Last year, sales of Windows-powered devices reached 175 million.
Although Google's (NASDAQ:GOOG) Android mobile platform dominates the smartphone market and is predicted to be used on over 1 billion devices by 2014, Gartner raises questions about Google's ability to monetize its open operating platform.
Apple moved down 0.93 percent at $423.75 in midday trading on Friday.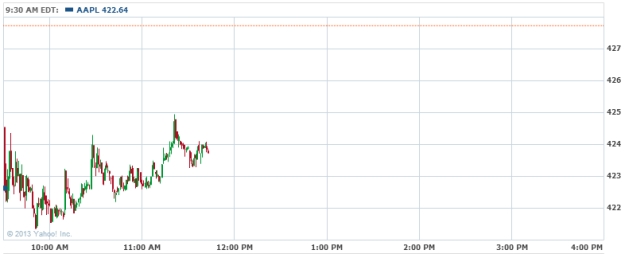 Don't Miss: Apple Grows While Android Slows.