Will Apple Win This Prestigious Contract?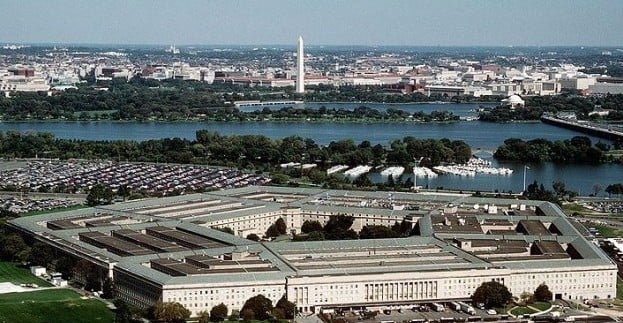 Is Apple (NASDAQ:AAPL) on the cusp of acquiring even greater military market penetration? Earlier this month it was reported that Apple devices had finally gotten Department of Defense security approval for non-classified communication usage by the military.
Unfortunately for Apple, BlackBerry (NASDAQ:BBRY) and Samsung (SSNLF.PK) beat the Cupertino-based company in the race for this Department of Defense security approval. However, it now appears all three phone makers are in another high-stakes race for a lucrative Pentagon contract.
According to military spokesperson Alana Casanova via  DefenseTech, the Pentagon "plans to award a contract to a company early this summer to begin building a system to manage mobile devices and protect them from cyber attacks." The Pentagon supports over 600,000 commercial devices, including 470,000 BlackBerry devices, 41,000 iOS devices, and 8,700 devices that use Google's (NASDAQ:GOOG) Android platform.
Although the value of this contract wasn't specified, the Pentagon disclosed that it "wants the management system and an associated application store to support at least 100,000 mobile devices from multiple vendors by February." Obviously a system that would manage this number of devices would cost a significant amount of money.
Although BlackBerry has long dominated the military smartphone niche market due to its longstanding emphasis on operating system security, Apple may now have an opportunity to dislodge the Canada-based phone maker from its entrenched position as the Pentagon's default mobile device maker. Not only is the Cupertino-based company's App Store the largest online "application store" in the world, it is also rumored to be developing a new level of biometric security for its devices. Apple has been rumored to be developing a fingerprint sensor for the next iteration of iPhone ever since it bought AuthenTec, a mobile and network security company, last summer.
Apple has already gained some military experience through the Air Force's adoption of the iPad as an electronic flight bag. Last year the Air Force's Air Mobility Command began the process of replacing all of their paper-based flight bag materials with iPads. The lightweight tablet device is expected to save the Air Force approximately $50 million over the next 10 years.
With its new fingerprint security technology expected to debut on the next iPhone and the Air Force's recent adoption of the iPad, it may not be long before Apple overtakes BlackBerry and becomes the primary source for the Pentagon's mobile devices. Here's how Apple and BlackBerry have traded over the past week.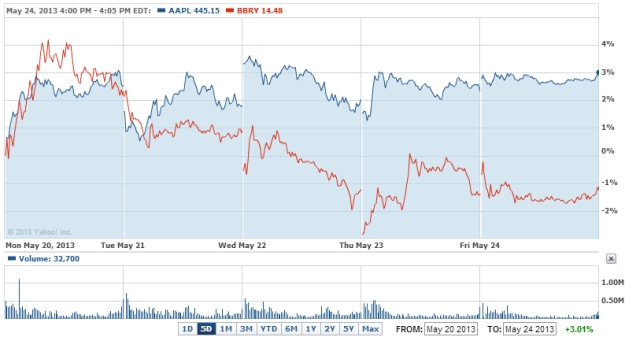 Follow Nathanael on Twitter (@ArnoldEtan_WSCS)
Don't Miss: Is the Next iPad Getting This New Audio Feature?