Will Apple's Devices Soon Get Bigger?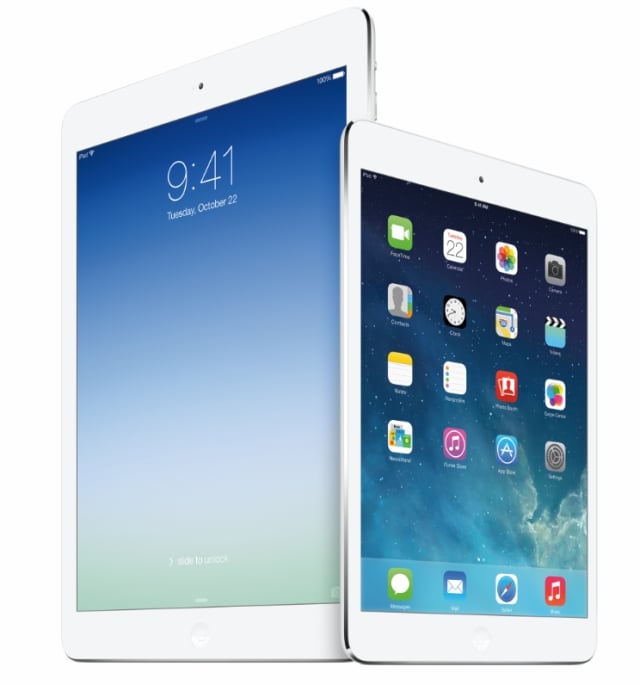 A new report from The Korea Times seen by Apple Insider claims that a Korean Apple (NASDAQ:AAPL) supplier has been building 12.9-inch iPad Retina displays, which supports previous rumors about an upcoming jumbo device.
The source from the supplier claimed that the ultra high-definition displays were being built for a device with an expected launch early next year. This backs up another rumor from Apple supplier Foxconn that Apple Insider reported on earlier this month, which also claimed that a 12.9-inch Retina screen was being built for a larger iPad with an expected release in spring 2014.
The move to make a bigger iPad would make sense for Apple, as consumers are increasingly turning to mobile devices like tablets for their computing needs and the PC market continues to slump. But it's worth pointing out that the iPad mini has been more popular than the full-size iPad since the smaller device's release, with the mini currently accounting for between 60 and 65 percent of Apple's total iPad sales, according to Apple analyst Gene Munster of Piper Jaffray.
Since consumers seem to prefer the smaller iPad, it makes sense to question a decision to make a tablet even larger than the current full-size iPad.
Other big-iPad rumors have suggested that Apple will make a larger, more powerful iPad called the iPad Pro — continuing with the use of MacBook terminology started with the iPad Air released at the beginning of the month. A bigger screen would make sense for a high-end device with better power, more storage and RAM, a better camera, and enhanced Wi-Fi connectivity.
The bigger-Apple products rumors haven't only been related to the company's tablets. As competition like Samsung Electronics (SSNLF.PK) and Nokia Corp. (NYSE:NOK) have released their own "phablet" phone-tablet hybrids (which are essentially large-screen smartphones), rumors that Apple will jump on the trend have been making the rounds since earlier this summer. The most recent big-iPhone rumors suggest that the devices will have a 5.5-inch screen that may have curved edges and could be released sometime in 2014.
If the speculation ends up being true, 2014 could very well bring jumbo-size iPhones and iPads.
Here's how Apple traded on Wednesday:

Follow Jacqueline on Twitter @Jacqui_WSCS
Don't Miss: Here Is How Amazon's Kindle Is Outshining Apple's iPad.