Will Apple's Early iPhone Debut in China Pay Off?

For the first time, Apple (NASDAQ:AAPL) customers in China will have access to the latest iPhones on the same day as consumers in North America, Europe, and Japan. Apple's iPhone 5C and iPhone 5S will launch in those markets Friday at 8 a.m. local time.
This was also the first year that Apple scheduled a separate iPhone premiere event in China, reflecting the market's increasing importance to the Cupertino, California-based company. Market research firm IDC predicts that smartphone shipments in China will exceed 460 million units by 2017 to reach a market size of $117.8 billion.
Apple's share of this future market may partly depend on how well its latest devices sell in China over the weekend. Although China has grown to become Apple's third-largest market, the iPhone maker's third-quarter revenue in the greater China market fell 14 percent from the same quarter last year, Bloomberg reports.

Apple shares have slipped more than 6 percent since the company's September 10 media event. Many investors appeared to be alarmed by the higher-than-expected selling price for Apple's iPhone 5C. The iPhone 5C will sell for approximately $730 in China, instead of the widely predicted $400 to $500 price range.
Although Apple has already acquired the iPhone license for China Mobile's (NYSE:CHL) network, many investors were also disappointed that the company has yet to ink a distribution deal with China's biggest carrier. As reported by AllThingsD, Pacific Crest analyst Andy Hargreaves believes that a China Mobile deal could add $3 to Apple's earnings per share in fiscal 2014. However, a deal with China Mobile is widely believed to be imminent.
On the other hand, Apple already has distribution deals with China Unicom (NYSE:CHU) and China Telecom (NYSE:CHA), China's second- and third-largest carriers, respectively. According to Bloomberg, China Unicom recently announced via microblogging site Weibo that reservations for the iPhone 5S and iPhone 5C have surpassed 100,000 units.
Besides giving China the same iPhone launch date as its other major markets, Apple also gave its Chinese customers the opportunity to preorder the iPhone 5S — an option customers in no other market were given. Despite some investors' worries about the iPhone 5C's high cost and the lack of a distribution deal with China Mobile, this could prove to be the year that Apple realizes it Chinese market ambitions. Here's how Apple traded over the past five sessions.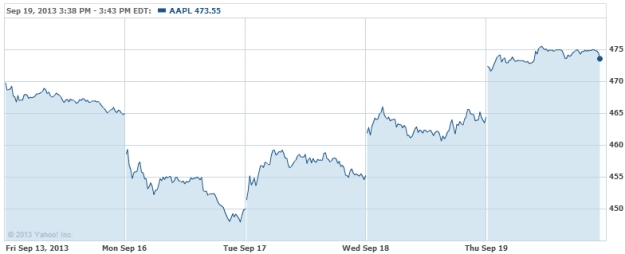 Follow Nathanael on Twitter @ArnoldEtan_WSCS
Don't Miss: Apple May Not Sufficiently Feed iPhone 5S Demand Come Friday.