Will Apple's iPad 5 Gain This Handy Accessory?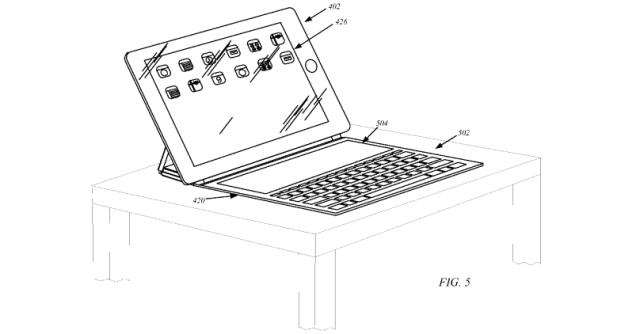 Is an iPad keyboard cover one of the surprises up Apple's (NASDAQ:AAPL) sleeve? As reported by Gizmodo, tech industry commentator Jamie Ryan believes that Apple may unveil a keyboard cover for the iPad 5 at its upcoming media event. This iPad case cover would be similar to the keyboard cover that Microsoft (NASDAQ:MSFT) currently offers for its Surface tablets.
Although there are a limitless number of tech commentators who are willing to spin yarns about potential Apple products, Ryan is not your run-of-the-mill speculator. According to his blog, Ryan previously worked for Apple in Developer Relations. Ryan's contacts at the Cupertino-based company have informed him that Apple has already created a prototype for a full-size iPad case that mimics Microsoft's Touch Cover.
However, this doesn't mean that Apple is following Microsoft's lead. As noted by 9to5Mac, Apple has published multiple patents for various types of keyboard covers that predate Microsoft's Touch Cover by over a year. While Apple already offers a Bluetooth keyboard that can be used with the iPad, Ryan noted that this device requires "a lot more bag space" than a thin cover keyboard. In the absence of an Apple-made option, many iPad owners have purchased keyboard covers made by third-party manufacturers.
According to Ryan, Apple may also use the iPad keyboard cover as a marketing tool to further distinguish the 9.7-inch iPad from the iPad mini. "Apple realises the market for the large iPad is mainly professionals looking to work on it whereas the iPad mini is mainly content consumption," wrote Ryan. On the other hand, Ryan also noted that, "Apple regularly mocks up all sorts of accessories and products and ditches them."
Although Apple has remained typically tightlipped about what will be presented at the event, the iPad maker may have dropped a keyboard cover hint in its invitation. As Jefferies analyst Peter Misek recently pointed out, the invitation's tagline — "We still have a lot to cover" — suggests Apple is planning some sort of "smart cover."
Apple's invitation-only media event tomorrow is widely expected to focus on the debut of the fifth-generation iPad and second-generation iPad mini. Many analysts have predicted that the iPad 5 will feature a sleeker design and narrower bezels, while the iPad mini 2 will gain a Retina display.
Here's how Apple traded on Tuesday:

Follow Nathanael on Twitter (@ArnoldEtan_WSCS)
Don't Miss: Supply Chain Sources: Apple's Retina iPad Mini Is Ready to Go.