Will Apple's iTunes Radio Take Over in the Land Down Under?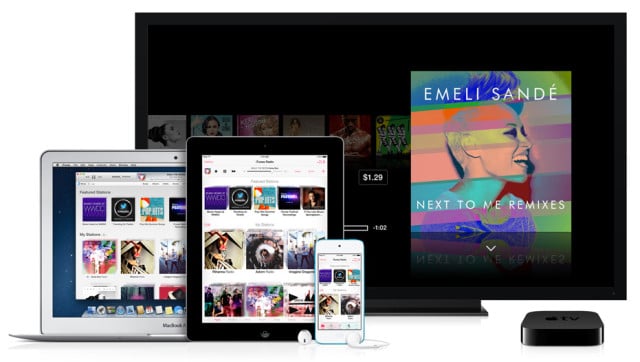 Although Apple's (NASDAQ:AAPL) iTunes Radio is currently only available in the U.S., some industry observers are already calculating the impact that the California-based company's music streaming service will have on the worldwide market. Although Apple has yet to announce a timeline for rolling out the service in other countries, Australia's Sydney Morning Herald believes that iTunes Radio will be arriving in the land down under sometime next year.
Ed Hooper, co-founder of Australian startup app company 121Cast, believes that Apple's iTunes Radio will be an "overnight success" when it becomes available in Australia. He noted that Apple's ecosystem of products gives it a significant competitive edge over online music streaming services that are not tied into a particular operating system.
"iTunes Radio's and Google (NASDAQ:GOOG) Play Music's biggest advantage over the competition is their distribution channel — they can tie their products into the distribution of every iPhone, iPad, Mac and Android device, whereas more 'neutral' competitors such as Pandora (NYSE:P) and Spotify have to attract attention just to get installed," Hooper told the Sydney Morning Herald.
Apple launched its music streaming service as part of the iOS 7 operating system update that was released in September. By October 28, Apple CFO Peter Oppenheimer reported that"the number of unique listeners who have tried iTunes Radio is now 20 million and growing."
"Twenty million users for iTunes radio is as easy as 20 million iPhone users thinking 'I wonder what that button does?'" said Hooper via the Sydney Morning Herald. "For Spotify, it's meant a lot of hard work, getting users to install and use their applications."
However, Spotify Australia managing director Kate Vale downplayed the impact that Apple's iTunes Radio would have on Spotify's share of the country's music streaming market. "iTunes Radio and other similar internet radio services are very different services to Spotify's, offering a purely 'lean-back' music consumption option, and thus we don't feel they're a direct competitor," Vale told the Sydney Morning Herald.
However, Apple will definitely be a direct competitor against Pandora, the world's biggest online radio network. Unlike iTunes Radio, Pandora is currently available in the U.S., Australia, and New Zealand. During Pandora's fiscal third quarter earnings call, CEO Brian McAndrews noted that the company saw a 2.6 percent decline in active listeners in the U.S. soon after Apple launched iTunes Radio in September. However, it was unclear if the decline was a temporary dip or the beginning of a long-term trend.
If the Sydney Morning Herald is right about the upcoming launch date for iTunes Radio in Australia, Pandora may soon be facing similar declines in active listeners in other markets. Senior vice president Eddy Cue told the Associated Press in October that Apple plans to eventually launch its music streaming service in "more than 100 countries."
Here's how Apple traded on Friday.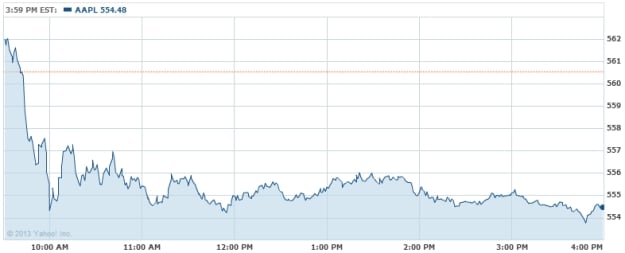 Follow Nathanael on Twitter (@ArnoldEtan_WSCS)
Don't Miss: Apple Is King of the Small and Medium Business Market.