Will Apple's New iPad Do Magic?
Apple (NASDAQ:AAPL) quietly added a new tablet to its lineup on Tuesday, announcing the launch of a 128GB version of the fourth-generation iPad. The latest unit, which doubles the storage capacity of the largest iPad model currently in the market, will be available in both Wi-Fi-only and cellular capabilities. It goes on sale on February 5th.
The fourth generation of Apple's full-sized, or 9.7-inch, iPad lineup now has four different capacities, starting at 16GB for the entry-level model. The iPad mini still offers 64GB as the maximum capacity.
"With more than 120 million iPads sold, it's clear that customers around the world love their iPads, and everyday they are finding more great reasons to work, learn and play on their iPads rather than their old PCs," Philip Schiller, Apple's senior vice president of Worldwide Marketing, said in a statement. "With twice the storage capacity and an unparalleled selection of over 300,000 native iPad apps, enterprises, educators, and artists have even more reasons to use iPad for all their business and personal needs."
The new model has all the features of its other fourth-generation cousins, including a 9.7-inch Retina display, FaceTime HD camera, and an A6X processor.
The high price tags of $799 for the WiFi-only version and $929 for the one with added cellular functionality will definitely relieve some worries about the company's falling gross margins. Last week, after Apple announced earnings that indicated disappointing earnings growth and margin trends, investors expressed their discontent loudly. The company's stock fell 12 percent last week. It was up a little under 2 percent in early trading on Tuesday.
Apple (NASDAQ:AAPL) also clearly already has a market for the high-end device in mind. It said at the announcement that virtually all Fortune 500 and over 85 percent of the Global 500 companies currently use or test the iPad. It noted that companies use large amounts of data, including 3D CAD files, X-rays, film edits, music tracks, project blueprints, training videos, and service manuals.
The announcement came only a day after buzz about the possibility of such a product started through references in the newly released iOS 6.1 software update.
Here's a look at how Apple has traded technically over the past 5 daily sessions: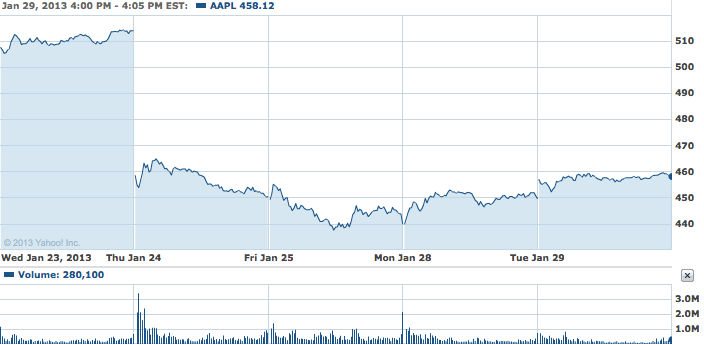 Don't Miss: Analyst: Apple Will Bounce From Here.