Will Apple's Next-Generation Devices Feature Quantum Dot Display Tech?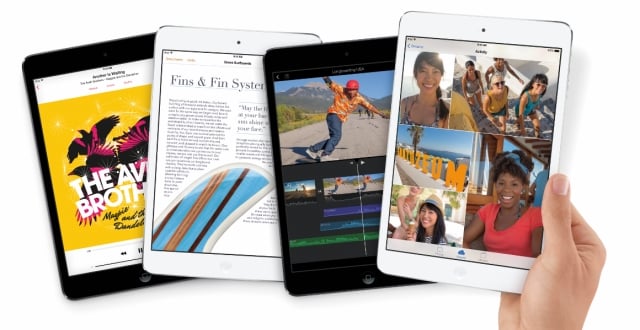 A recently published patent uncovered by Apple Insider reveals that Apple (NASDAQ:AAPL) has developed a unique method for implementing a cutting-edge technology into its mobile device displays. In the patent titled "Quantum Dot-Enhanced Display Having Dichroic Filter," Apple described a display design that uses the color-enhancing "quantum dot" technology.
As explained by nanotechnology company Nanosys, so-called "quantum dots" are tiny "nanoscrystal phosphors [that] can actually convert light to nearly any color in the visible spectrum" by changing their size. When pumped with a blue light source, quantum dots are very efficient at producing highly saturated primary colors. According to Nanosys, quantum dot technology makes displays "that are brighter, more efficient, and produce truly vibrant colors."
In the patent background, Apple noted that, "One of the common issues with quantum dots is that they are potentially toxic." However, Apple's patent described a method that might reduce the toxic content of quantum dots by reducing their density. A dichroic filter that would reflect some portions of light would be placed over a quantum dot-enhanced film on an LCD display. According to Apple, the DCF, or dichroic filter, would reflect most of the blue light and reduce the density and toxicity of the quantum dots.
In several different embodiments, Apple described how the dichroic filter would reflect a portion of the blue light back to the light emitting layer in order to recycle the light, while another portion of the blue light would be used to emit a red light, a green light, and a white light. One embodiment also passed the white light through a "plurality of color filters" arranged in subpixels. As noted by Apple Insider, this method would reproduce highly accurate colors.
Although Apple's patent did not reveal when this technology might be implemented, it should be noted that display testing company DisplayMate recently found that Apple's iPad mini with Retina display had a smaller color gamut than Google's (NASDAQ:GOOG) Nexus 7 and Amazon's (NASDAQ:AMZN) Kindle Fire HDX 7. DisplayMate credited Amazon for being "the first Tablet display to use super high technology Quantum Dots, which produce highly saturated primary colors."
On the other hand, DisplayMate criticized Apple for sticking with the inferior IGZO display technology that produces a much smaller color gamut. However, this recently published patent reveals that Apple has already been working on its own next-generation version of quantum dot technology displays. Here's how Apple has traded today.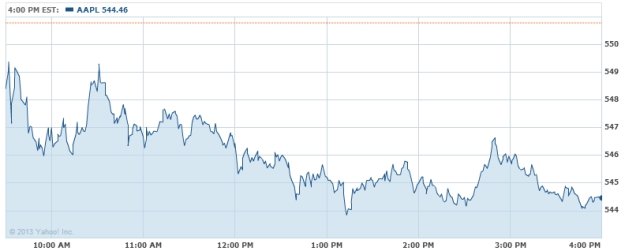 Follow Nathanael on Twitter (@ArnoldEtan_WSCS)
More from Wall St. Cheat Sheet: