Will Apple's Next-Generation iPhones Get This High-Resolution Display?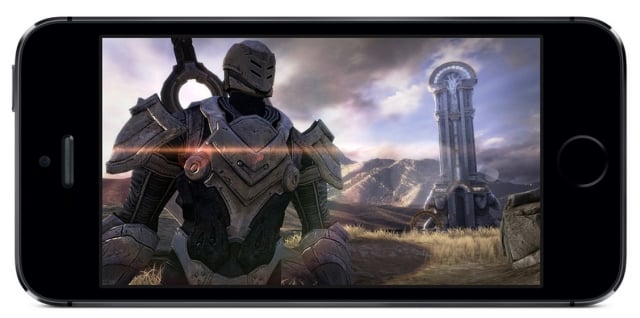 Apple (NASDAQ:AAPL) display-panel supplier Japan Display has introduced a new 4K resolution smartphone screen that could be incorporated into the next generation of iPhones. The 5.4-inch screen has a 1440 x 2560 pixel display for a resolution of 543 ppi (pixels per square inch), reports the International  Business Times.
This is significantly higher than the resolution of Apple's current flagship smartphone, the iPhone 5S. The iPhone 5S features a 1136 x 640 pixel display and a pixel density of 326 ppi. The resolution of Japan Display's groundbreaking new smartphone display is also higher than the display resolution used by many of Apple's rivals. For example, the Samsung (SSNLF.PK) Galaxy S4 features a 1920 x 1080 pixel display with a pixel density of 441 ppi and the HTC One has a 1920 x 1080 pixel display with a slightly higher pixel density of 468 ppi.
Japan Display's new 5.4-inch high-resolution smartphone display uses a TFT LCD (thin-film-transistor liquid-crystal display) screen, which allows it to achieve a 1500:1 contrast ratio and an impressive 160 degree viewing angle. According to the International Business Times, the display maker also unveiled a 6.2-inch smartphone screen with a 1440 x 2560 pixel display, but this screen only has a pixel density of 473 ppi due to the slightly larger size.
The announcement of Japan Display's high-resolution smartphone screen comes on the heels of a similar announcement regarding its tablet-size screens. As reported by Engadget, last week Japan Display unveiled a 12.1-inch tablet screen that features a 3840 x 2160 pixel display with a pixel density of 365 ppi. Like Japan Display's new smartphone screen, this high-resolution tablet screen also tops the pixel density of Apple's latest flagship tablets. The iPad Air has a pixel density of 264 ppi and the iPad mini with Retina display has a pixel density of 326 ppi.
Although it is not known when or if these next-generation, high-resolution displays will start to show up in Apple's products, some commentators have speculated that Japan Display's screens are unlikely to be widely available before the end of 2014. Although Japan Display is a known Apple supplier, there is also the possibility that other smartphone makers will debut this display technology before the Cupertino-based company. Some commentators believe that Sony (NYSE:SNE) will get first dibs on this tech due to its stake in Japan Display.
Here's how Apple traded last week.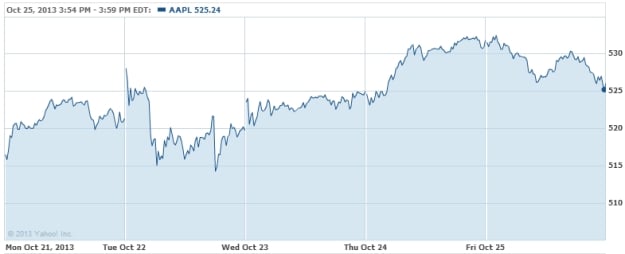 Follow Nathanael on Twitter (@ArnoldEtan_WSCS)
Don't Miss: Upcoming Apple and Facebook Earnings Reports Eclipse Fed Meeting.