Will BlackBerry's Earnings Report Surprise Shorts?
BlackBerry's (NASDAQ:BBRY) stock has more than doubled in price since September — rising from $7.14 per share to $14.46 as of Tuesday's close — but that gain has given investors little confidence in the company's turnaround, on which its future rests, as increasing competition from Apple's (NASDAQ:AAPL) iPhone and Google's (NASDAQ:GOOG) Android devices keeps BlackBerry bleeding market share.
Instead, short sellers have seen an opportunity, betting that BlackBerry's fortunes will once again fade. "Short sellers remain unconvinced of the rally," Markit director Alex Brog told The Wall Street Journal's "MarketBeat."
An important test for the BlackBerry bears is looming; the company will report earnings before markets open Thursday morning. As short sellers borrow shares with the intention of buying them back cheaper at a future date — aiming to profit from a price decline — their bet will only prove to be correct if the company posts negative quarterly results and shares drop.
Poor financial results are just what BlackBerry short sellers are predicting. Analysts polled by Thomson Reuters have estimated that BlackBerry will report a loss of 29 cents per share on a revenue of $2.84 billion…
In the combined Canadian and New York stock listings, the percentage of shares on loan — a proxy for short-selling activity — rests at a level of approximately 30 percent, noted the publication on Wednesday. This number marks a record high for the BlackBerry manufacturer, according to data from securities financing tracker Markit.
When markets rise — as is the current trend — short sellers have difficulty in securing shares, and this often can push the stock's price even higher, creating what is known as a "short squeeze." However, in this case, a short squeeze has not materialized, and BlackBerry bears are even more convinced that the stock is about to take a massive drop. "Despite everything, the shorts have remained true to their conviction," Brog added. "They haven't been spooked."
But, while a short squeeze has not occurred, it is difficult to borrow shares, putting some pressure on shorts. Markit's data shows that approximately three-fourths of all shares that can be borrowed are already out on loan, making it "hard and expensive to short any more of the company," Brog said. "Lending programs are all maxed out. Supply is really tight."
With these conditions and the approaching earnings report, short sellers are nearing a moment of truth. For analysts, this increasing momentum has produced numerous questions — like "will better-than-expected quarterly results later make these investors become more optimistic about RIM's future prospects?" as the Journal asked.
However, because of this negative buzz currently surrounding the company, short sellers may have good reason to believe that the stock will plummet after Thursday's earnings report. The recent U.S. launch of BlackBerry's latest smartphones — boosting the company's newly designed BB10 operating system — was viewed as an underwhelming event by many analysts; Goldman Sachs even downgraded the company's stock as a result.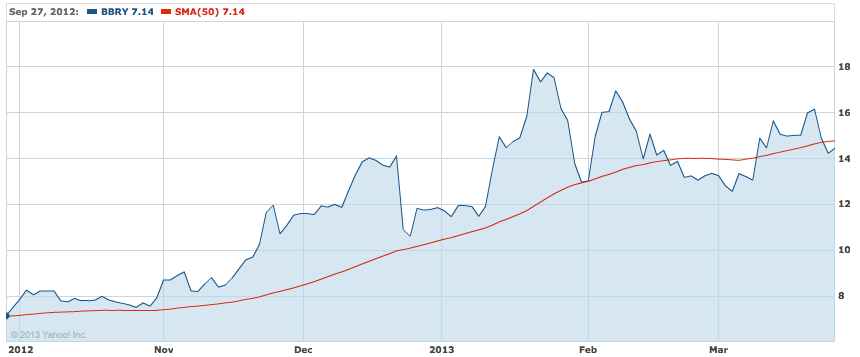 Don't Miss: Apple vs Samsung: Did the Court Make a Mistake?