Will Cisco Continue to Outperform After Earnings?
Dow (NYSEARCA:DIA) and S&P 500 (NYSEARCA:SPY) member Cisco Systems (NASDAQ:CSCO) has been on a bumpy ride this year.  After hitting a 52-week high of $24.60 last November, shares declined to a low of $13.30 on August 9.  However, since the August low, shares have rebounded 35%.  With Cisco reporting its fiscal first quarter results tomorrow, can Cisco keep the rebound going?
Investor Insights: Cisco Among These Tech Stocks With New Analyst Coverage.
Cisco is a multinational corporation engaged in the design, manufacturing, and sales of Internet Protocol-based consumer electronics, networking, and other services related to communications and information technology.  Shares have been able to outperform competitor Juniper Networks (NYSE:JNPR) after reassuring its 2011 guidance.  In August, Cisco announced that for the first quarter of 2012, it expects revenue growth to be in the 1%-4% range, compared to last year.  Non-GAAP earnings per share is expected to be 38 cents to 41 cents.  As the chart below shows, shares received a bounce on this reassurance, and continued to outperform other competitors such as Hewlett-Packard (NYSE:HPQ) and Alcatel-Lucent (NYSE:ALU) to date.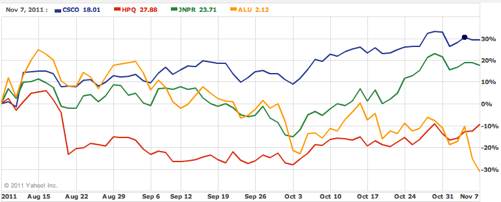 All eyes and ears will be on Cisco's earnings release tomorrow.  Last Friday, Alcatel-Lucent reported a disappointing quarter, which led to shares plunging 18% in just one day.  Cisco has beaten estimates the last four quarters and is coming off a quarter where it topped forecasts by 3 cents, reporting profit of 35 cents per share against a mean estimate of net income of 32 cents per share.  Any disappointing news in the earnings release could quickly reign in the share price.
Investors should also keep watch of Cisco's 50-day and 200-day moving averages.  The turnaround thats taken place over the past three months has caused the company's 50-day MA to turn upward, and is now close to crossing over the 200-day MA.  The last time this happened was June 2009.  The result was nearly a year long rally that took shares from $18 to $27.  Currently, Cisco is once again trading at $18 per share.  A positive earnings release tomorrow could be the catalyst investors have been waiting for to send the 50-day MA over the 200-day MA, and rocket shares back into the high $20s.
Competitors to Watch: Hewlett-Packard Company (NYSE:HPQ), Juniper Networks, Inc. (NYSE:JNPR), Alcatel-Lucent (NYSE:ALU), Microsoft Corporation (NASDAQ:MSFT), Intl. Business Machines Corp. (NYSE:IBM), Extreme Networks, Inc (NASDAQ:EXTR), Telefonaktiebolaget LM Ericsson (NASDAQ:ERIC), Motorola Mobility Hldgs. Inc (NYSE:MMI), NetGear, Inc. (NASDAQ:NTGR), Apple (NASDAQ:AAPL), and ADTRAN, Inc. (NASDAQ:ADTN).
Don't Miss: Cisco Systems, Inc. Upcoming Quarterly Earnings Release