Will Exxon Shares Gain Traction After Slipping Below $80?
Exxon Mobil (NYSE:XOM) is the world's largest publicly traded international oil (NYSE:USO) and gas company, providing energy that helps underpin growing economies.  In fact, Exxon Mobil is the largest company by market value, except when Apple decides to take the top spot at various times.  With the Dow (NYSE:DIA) falling more than 300 points on Tuesday, it's important that investors keep buying opportunities in strong companies in mind.
Exxon Mobil recently reported its third consecutive quarter of profits with a 41% increase to more than $10 billion.  However, shares are declining along with everything else in the market, and may soon provide a good buying opportunity for patient investors.  As the chart below shows, shares have long-term support at $67.50.
Don't Miss: 5 Auto Stocks to Watch After The Monthy Car Sales Report.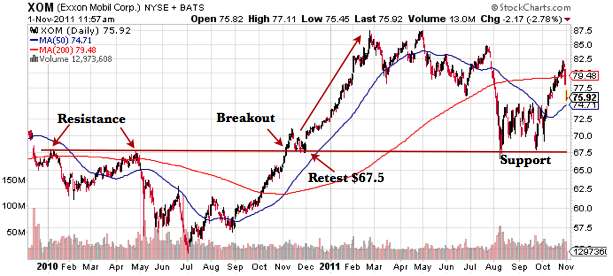 In 2010, Exxon shares had trouble breaking through resistance at $67.50.  In late 2010, shares finally broke through this level, and after a quick retest, shares gushed higher to form a double top at $87.50.  Since then, shares continue to find support at the key $67.50 level.  As long time Wall St. Cheat Sheet readers know, 'Technicals on the Stock Chart are Strong' is one of the 'T's in our CHEAT SHEET investing framework. One of the high-level technical analysis tools we use when analyzing stock charts is the overall price trend of the stock.  The last bounce off the $67.50 support level sent shares rallying to $82.50, but have pulled back to $76 as the Eurozone debacle weighs on equities .  Investors looking to profit from another support bounce should keep an eye on Exxon Mobil.  However, if shares break $67.50 it can quickly become a look-out below scenario.
The oil giant also satisfies our 'Support is Provided By Institutional Investors' investing framework component.  Institutional and mutual fund owners account for 49% of Exxon shares.  Top institutional holders include: State Street (NYSE:STT), BlackRock (NYSE:BLK), Bank of NY Mellon (NYSE:BK), JP Morgan (NYSE:JPM), and Bank of America (NYSE:BAC).  Exxon also bought back $5 billion of its own stock in the third quarter, and will buy back another $5 billion this quarter.
Other oil plays on our watchlist for future coverage include: Chevron Corp (NYSE:CVX), Marathon Oil Corp (NYSE:MRO), Total S.A. (NYSE:TOT), BP (NYSE:BP), and ConocoPhillips (NYSE:COP).
Investing Insights: Jeff Bezos has Fire to Ignite Amazon's Stock During the Holidays.