Will Intel Breathe New Battery Life Into the MacBook?
Will Intel's (NASDAQ:INTC) new Haswell series of processors give Apple's (NASDAQ:AAPL) next generation of MacBooks a significant energy boost? Ever since Intel released the Haswell series of processors, rumors have been swirling that Apple would take advantage of this latest generation of integrated graphics processor and install it in its MacBook line of laptops. Although it is expected that these new chips will give Apple's laptops greater graphics performance, it appears that these chips will also breathe extra battery life into the MacBook.
Apple typically uses integrated processors for its ultra-thin laptops since discrete, or dedicated, GPUs tend to consume more power and generate more heat than their integrated counterparts. On the other hand, discrete GPUs are typically able to process graphics much faster due to having its own dedicated RAM.
However, Intel may have made this issue moot with its new Haswell series of processors. According to Intel, Haswell chips will "double the graphics performance for laptops." This extra processing power won't come with a cost to battery life either. Intel has said that the Haswell chips will "offer 50 percent more battery life in laptops than did their 'Ivy Bridge' predecessors."
Apple may also be installing these powerful new chips into its iPad and iPad mini products. Intel announced that it has created some Haswell chips specifically for tablets. Intel reports that it has reduced the power consumption of these specialty chips to as low as seven watts. Intel's previous generation of chips, Ivy Bridge, only went as low as 10 watts.
Although Apple has yet to make an official announcement, it is widely anticipated that the Cupertino-based company will debut the new MacBook Pro and MacBook Air models that feature the new Haswell series chips at this year's Worldwide Developers Conference. This year's WWDC runs from Monday, June 10 until Friday, June 14.
Here's how Apple and Intel has traded over this past week.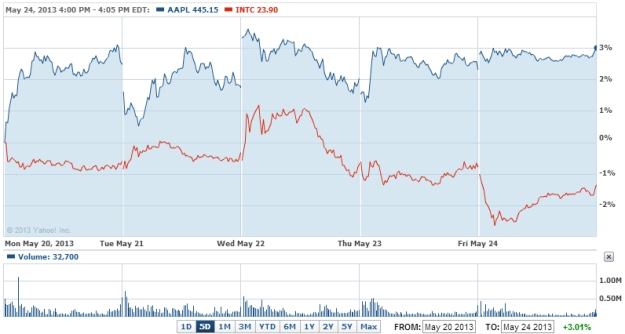 Follow Nathanael on Twitter (@ArnoldEtan_WSCS)
Don't Miss: E-Book Trial Judge Gives Apple a Thumbs Down.