The new iPhone 4S from Apple (NASDAQ:AAPL) has the cell phone industry buzzing.  Although analysts were disappointed that Apple did not unveil a completely new iPhone 5, consumers were excited for the iPhone 4S.  Apple issued a press release Monday morning announcing it sold 1 million of its new iPhone 4S units on the first day that is was publicly available.
Don't Miss: Apple Cheat Sheet: iPhone Event Recap.
Despite the good news from Apple, shares of Sprint-Nextel (NYSE:S) fell 9% to their lowest level since February 2009. On Friday, the third largest cell-phone carrier announced plans to build a new high-speed wireless 4G network, and that it may need to tap capital markets to pay for the project.  The move separates Sprint from its current 4G provider Clearwire (NASDAQ:CLWR).  To add insult to injury, the WSJ reports, "Standard & Poor's warned that it could downgrade Sprint's debt further into junk territory, citing the likelihood the carrier would spend more money than it takes in through 2013 and the potential for it to refinance its debt.
As the chart below shows, Sprint is clearly struggling to keep pace with AT&T (NYSE:T) and Verizon (NYSE:VZ) in recent months. Shares are down nearly 28% this month alone, and Sprint does not pay a hefty dividend like AT&T and Verizon.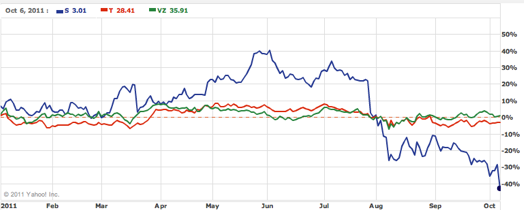 S&P goes on to explain, "We believe the company may be challenged to maintain positive operating momentum as industry conditions mature and competition intensifies."  Sprint is also forced to pay a high subsidy on iPhone sales and will see that pressure on its cash flow. A Citigroup (NYSE:C) analyst estimates that the iPhone may cost Sprint 850 million through next year. Many other analysts expressed their own concerns as Sprint received six downgrades early Monday. Mizuho Securities, Kaufman Brothers, Deutsche Bank (NYSE:DB), Collins Stewart, JP Morgan (NYSE:JPM), and James's Ric Prentiss all cut their ratings on Sprint.
Going forward, investors will need to monitor Sprint (NYSE:S) and the company's ability to keep costs under control while implementing a new 4G network.  AT&T (NYSE:T) customers faced drop calls and other problems due to the lack of preparation for high data usage that iPhone users demand. Will Sprint learn from AT&T's mistakes?  AT&T and Verizon (NYSE:VZ) have both started to throttle bandwidth in order to deal with high data users.  Sprint once stood a chance to steal iPhone users away from AT&T and Verizon, but with new networking and subsidizing costs, Sprint may have to price itself out of the competition. Investors are not remaining on hold to find out.
Super Hot Feature: Tim Cook: Genius or Complete Fool?