Will MacBooks Soon Have an Even Longer Battery Life?

Apple (NASDAQ:AAPL) may soon adopt a technology that could further boost the already impressive battery life of its MacBook laptop devices. According to a report from Korea IT News via Apple Insider, Apple has decided to use IGZO — or indium gallium zinc oxide — displays for its next generation of MacBooks. The anonymous insider source said the new IGZO MacBooks will be released in the first half of next year.
IGZO is an oxide semiconductor used in TFTs, or thin film transistors, which allows electron mobility at a rate approximately 10 times faster than amorphous silicon-based LCD displays. That means IGZO displays provide lower power consumption, which gives mobile devices a longer battery life.
The industry source reported Apple is in talks with panel makers Sharp and LG Display (NYSE:LPL). The source also said that Apple is planning to adopt IGZO displays for the iPad, although no time frame was given.
IGZO technology was jointly developed by Sharp and Semiconductor Energy Laboratory. According to Sharp, "[IGZO] material will enable even higher resolutions, lower power consumption, and higher performance touch screens, as well as narrower bezel widths for LCD display panels used in mobile devices such as smartphones."
Apple has already recently increased the battery life of MacBook Air models, thanks to Intel's (NASDAQ:INTC) next-generation Haswell processor, which uses significantly less battery power while offering an even higher workload capability. According to Apple, the latest 13-inch MacBook Air has jumped from approximately 7 hours of battery life to an "all day" battery life of 12 hours.
Here's how Apple has traded over the past five days.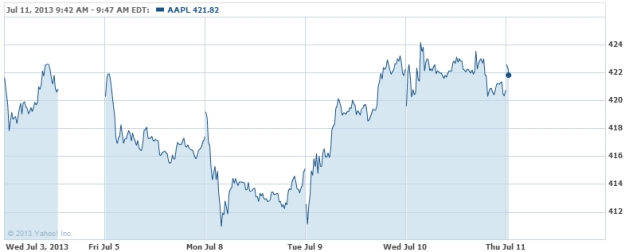 Follow Nathanael on Twitter (@ArnoldEtan_WSCS)