Will New Costs Shrink iPhone Margins?
Are Apple's (NASDAQ:AAPL) global smartphone market ambitions trapped by its high-cost iPhone? Apple will soon be facing difficulties in maintaining its current gross margins due to increasing manufacturing expenses, according to Jefferies' analyst Peter Misek via Barron's.
First, Misek notes that the cost of semiconductor manufacturing will soon be rising. One reason for the increase in manufacturing cost is due to the "implementation of multiple patterning lithography to shrink chips." In this sense, Moore's Law of increasingly complex chips is also beginning to increase manufacturers' production costs.
Additionally, Misek cites industry sources that indicate Samsung (SSNLF.PK) is "set to raise prices 25 percent -50 percent on Apple's foundry business as the ramp at TSMC [Taiwan Semiconductor Manufacturing (NYSE:TSM)] takes longer and prices quoted by alternative partners such as Intel (NASDAQ:INTC) remain higher." Although Samsung is one of Apple's biggest smartphone competitors, the Cupertino-based company still sources many of its components from the Korea-based corporation.
Secondly, Misek believes that Apple will soon incur increased display production costs when it is forced to switch from its current "in-cell" iPhone display technology to the more costly "on-cell" type. He notes that "On-Cell OGS LCD technology" has "performance, weight, and thickness" advantages over the iPhone's current display technology. The "on-cell" technology is currently used by Samsung for its Galaxy S3 and S4 devices. Misek also predicts that Apple will have to eventually migrate to AMOLED, or Active-Matrix Organic Light-Emitting Diode, display technology. This could be more bad news for Apple since Samsung currently holds a 98 percent monopoly of the AMOLED technology market, according to the Korea Economic Newspaper.
Misek identifies three "tranches" or tiers in the worldwide smartphone market. The lowest tier is found in emerging markets with an annual per capita GDP of $4,000. The middle tier is primarily in countries with an annual per capita GDP of $9,000. These are the least saturated tiers of the overall smartphone market according to Misek. Unfortunately for Apple, these consumers can only afford phones that cost below $200.
Although Apple is rumored to be working on a low-cost iPhone, it is widely expected that this phone will still cost more than $200. However, Apple does best in the highest tier of the smartphone market which is primarily found in countries with an average per capita GDP of $43,000. Unfortunately, this is also the most penetrated segment of the worldwide smartphone market. For this reason, Misek believes that Apple will soon be "challenged due to its reliance on the high-end market."
Here's how Apple has traded so far this week.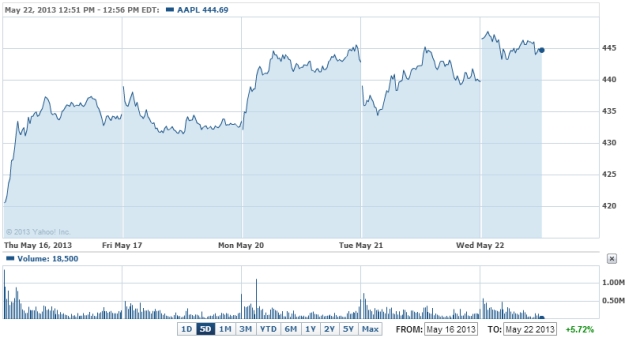 Follow Nathanael on Twitter (@ArnoldEtan_WSCS)
Don't Miss: This Competitor Could Smash Samsung and Apple Devices.