Will President Obama Protect Samsung Imports Next?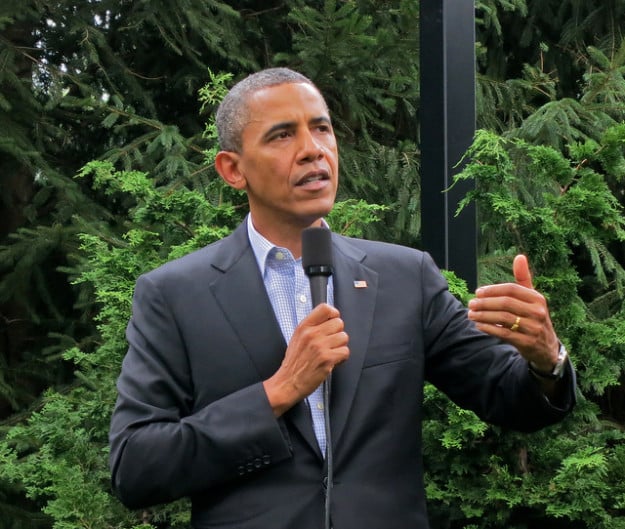 President Obama's administration finds itself in a tough spot now, after the U.S. International Trade Commission banned imports of certain Samsung (SSNLF.PK) products into the United States, citing patent conflicts with rival Apple (NASDAQ:AAPL).
Specifically the two companies are feuding over what seem like minor details, a swath of issues ranging for headphone jacks, to touch screen interactions, to rectangular designs. Samsung claims that Apple's patents are overly restrictive, limiting market competition and monopolizing phone features while Apple claims that the patent system is trying to protect its innovation as well from Samsung's "blatant copying."
President Obama recently vetoed a similar ban on Apple products being accused of copying patents by Samsung, a move coming amid fears that large scale trade bans over patent issues such as these could lead to increased lawsuits between companies and punitive squabbles for market share. The president now runs the risk of playing favorites and making trade relations with South Korea―Samsung's home country―testy should he not overturn this ban as well.
However, legal experts claim that there is ground to do so, despite the appearance of one-sidedness. The functionality of swipe screens has warranted the ban on a few of Samsung's products , and aspects of the case could be different enough that the administration could find justification to uphold the ban.
Adam Yates, spokesman for Samsung, said in a statement that, "We are disappointed that the ITC has issued an exclusion order based on two of Apple's patents. However, Apple has been stopped from trying to use its overbroad design patents to achieve a monopoly on rectangles and rounded corners."
Samsung has also claimed that if the ban is upheld the U.S. could face a shortage in the marketplace, perhaps trying to stir up a bit of fear to support its case. Samsung has said that a lack of phones among smaller carriers "would take months to rectify."
Samsung has been prudent, though, and taken measures to ensure its market access in the U.S. does not hinge on trade decisions such as this, already changing several products to get around the patents and reach U.S. consumers, perhaps contradicting claims of phone shortages. According to another Samsung spokesperson, "We have already taken measures to ensure that all of our products will continue to be available in the United States."
Apple has been pleased with the ITC's decision thus far, already having gotten around its previous ban, with a company spokeswoman saying that, "With today's decision, the ITC has joined courts around the world in Japan, Korea, Germany, Netherlands and California by standing up for innovation and rejecting Samsung's blatant copying of Apple's products. Protecting real innovation is what the patent system should be about."
U.S. Ambassador Michael Froman, a trade representative, cited the "effect on competitive conditions in the U.S. economy and the effect on U.S. consumers" as concerns involved in the administration's decision.
Don't Miss: Is This the iPad 5 Screen?