Will Siri Be Your Next TV Remote?
Could this be the Apple (NASDAQ:AAPL) television product that consumers have been waiting for? Apple fan Sam Beckett recently posted this Apple TV concept video that outlines his vision for what Apple's long-rumored television revolution should look like.
After noting that the classic TV remote control has been in use for "over forty years," the video narrator points out that TVs have acquired more and more functions during the same time period. Obviously a remote control that has remained essentially unchanged for that long cannot adequately handle the increasingly interactive television viewing experience.
Beckett demonstrates how Apple's iPad or iPad mini could function as a superior TV remote as well as a tool to enable a richer interactive viewer experience. One of the most interesting concepts that Beckett outlines is how Siri — the voice-activated personal assistant — could become a virtual TV assistant that answers your random movie and television trivia questions as well as records your favorite shows with simple verbal commands.
"The overall idea of the concept demonstrates how an iPad or iPad Mini could be paired, (via Bluetooth) to an Apple TV set-top box or TV screen panel. User input would either be by multitouch (on the tablet), or with Siri voice commands," explains Beckett via The Verge.
While some analysts have predicted that Apple will revolutionize television with an "iTV" product, this video gives a good overview of how Apple could easily become the central television entertainment hub by simply building on its existing applications and products.
Here's how Apple has traded so far this week.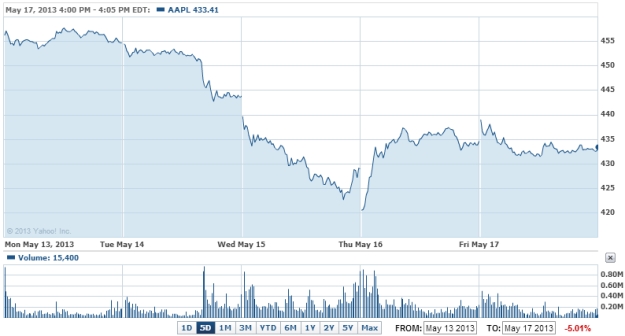 Follow Nathanael on Twitter (@ArnoldEtan_WSCS)
Don't Miss: Is Apple Losing This Huge Market to BlackBerry and Samsung?