Will the iPad Mini Be Apple's Savior?
The original full-sized iPad may have helped Apple (NASDAQ:AAPL) to its current dominance in the tablet market, but the iPad mini will carry the company in the future, according to NPD DisplaySearch.
"The launch of the iPad mini in late 2012 has been seen as an acknowledgement by Apple that smaller size tablet PCs would become a larger part of the market than larger sizes," NPD analyst David Hsieh wrote in a report. "Key aspects are more attractive prices and the ability to hold the device in one hand rather than two."
The market research firm said that shipments of 9.7-inch tablets like the full-sized iPad "collapsed" in January, falling to 1.3 million from 7.4 million in December. Meanwhile, shipments of tablets with displays closer to seven inches, such as the iPad mini and Google's (NASDAQ:GOOG) Nexus 7, grew from 12 million to 14 million.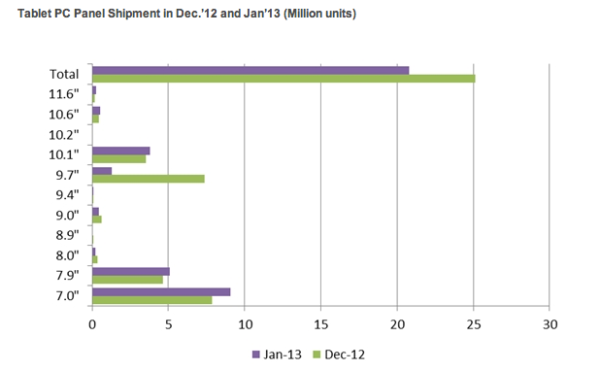 (Chart courtesy of NPD DisplaySearch)
Hsieh added that the firm believed Apple may be planning to ship 55 million iPad minis and 33 million iPads this year. That would represent a major change from the company's December plans, when it was estimated to be targeting shipping 40 million iPad minis and 60 million full-sized iPads in 2013.
The possibility of the iPad mini cannibalizing Apple's larger tablet, and proving a negative influence on the company's gross margins because of its lower price, has been addressed by several analysts over the past few months. However, the company has insisted cannibalization does not worry it.
"Cannibalization is a huge opportunity for us," Apple chief executive Tim Cook said during the company's post-earnings conference call in January. "We never fear it because if we do, someone else will do it."
Other companies were also making the most of the phenomenon, the research firm added in its report.
"At the same time, Samsung (SSNLF.PK), Amazon (NASDAQ:AMZN), Google, ASUS, and Acer are all eyeing the 7-9" segment to grab tablet PC market share, while many white box makers in China are also emphasizing the smaller size tablet PC," Hsieh added.
NPD also forecast that tablet shipments will reach 254 million this year, up from 160 million in 2012. Of those, phablets and tablets in the size range between 5 inches and 8.9 inches will account for 136 million units, while those between 9 inches and 10 inches will make up 118 million.
Here's how Apple, Google and Amazon have traded relative to one another this past trading week: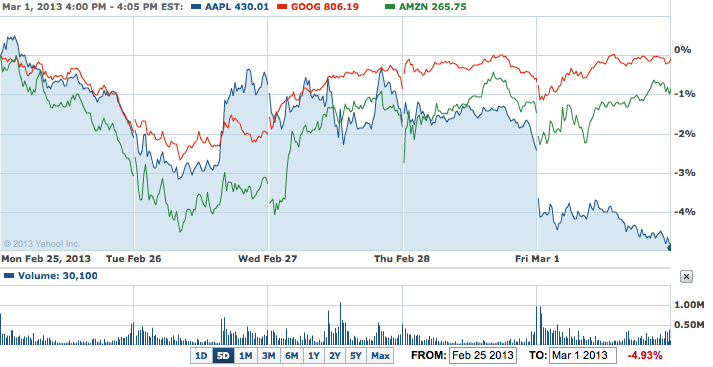 Don't Miss: Will Apple Rise From the Ashes?