Will the ITC Ruling Hurt Apple's Bottom Line?
Will Apple's (NASDAQ:AAPL) bottom line be negatively impacted by the U.S. International Trade Commission's decision to ban certain older models of its iPhone and iPad products? Although the ITC decision was a publicity coup for Samsung (SSNLF.PK), it should have a minimal impact on Apple's finances according to several high-profile analysts.
The ITC's ruling bans the importation and sale of the AT&T (NYSE:T) versions of the iPhone 3G, iPhone 3GS, and iPhone 4. It also bans the cellular versions of the original iPad and iPad 2. However, although Apple still sells some units of the iPad 2, the only banned product with significant sales is the iPhone 4. Wells Fargo analyst Maynard Um points out that Apple is already widely expected to debut a new iPhone in September. If Apple debuts a new model of iPhone, the iPhone 4 will likely be phased out regardless of the ITC ban.
Based on this timeline, Um notes that after the 60-day review period for the ban expires, there will only be a six-week window before the new iPhone debuts. He predicts that even if Apple is prevented from selling 1.5 million iPhone 4 units, this would likely only affect the company's September quarter earnings per share by 24 cents. Um notes that this is only 3 percent of his current September EPS estimate of $7.46.
Piper Jaffray's Gene Munster was even more optimistic than Um about the impact of the ITC's decision. The analyst confirms Um's reasoning by pointing out that Apple typically discontinues selling iPhone models that are over two generations older than the newest model. Therefore, if Apple debuts the iPhone 5S in September, the last two available models will be the iPhone 5 and the iPhone 4S.
Via Apple Insider, Munster states, "The actual impact will likely be less than 1 percent given AT&T customers that would not have a chance to purchase an iPhone 4 could buy an iPhone 4S or 5 instead. Given the iPhone 4 will likely be retired at the end of September, there should not be an impact after the September quarter."
Perhaps what makes these analyses of Apple even more positive is the fact that these are worst-case scenarios. Apple has already announced that it will appeal the ITC's ruling. Besides the possibility that the ruling could be overturned on appeal, there is also the chance that President Obama could choose to veto the ban. With little to no impact on Apple's sales and the possibility of an overturned ruling, Samsung's ITC victory may turn out to be a victory in name only.
Here's how Apple has been trading so far this week.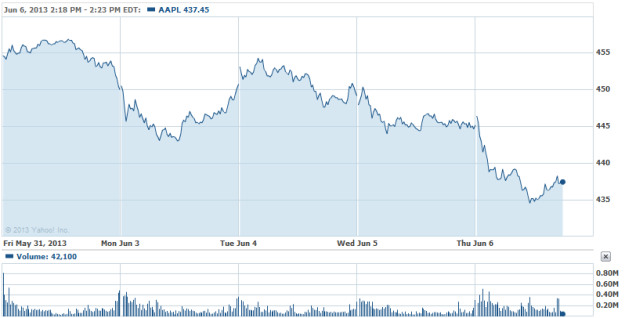 Follow Nathanael on Twitter (@ArnoldEtan_WSCS)
Don't Miss: Is This Official Proof of an iWatch?