Will the New iPhones Get Hot? These Analysts Take a Guess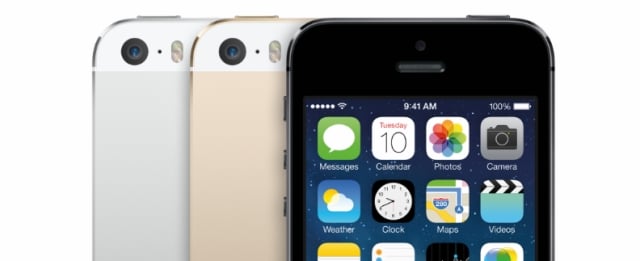 As Apple's (NASDAQ:AAPL) iPhone 5C and iPhone 5S models become available to consumers in 11 different countries this weekend, many analysts continue to offer their predictions on how many devices the Cupertino-based company will sell. Many of those analysts are using last year's iPhone 5 weekend launch sales numbers as a benchmark for this year's performance.
Although Apple officially reported sales of about 5 million iPhone 5 units last year, BMO Capital Markets analyst Keith Bachman believes the "proper benchmark" for comparing sales to this year is actually 6 million, reports Barron's. Although the iPhone 5C has been available for pre-order since September 13, Bachman does "not think the iPhone 5C is the hot product."
On the other hand, "the more intriguing" iPhone 5S will have only been available for three days after the launch weekend. However, like many other analysts have predicted, Bachman believes that the iPhone 5S will be in short supply due to production constraints. For these reasons, the analyst believes that Apple's combined iPhone sales will fall short of last year's sales of 6 million units.
In contrast, RBC Capital's Amit Daryanani thinks that Apple will have combined iPhone sales of over 6 million units this weekend. However, he expects that more iPhone 5C units will sell due to the limited iPhone 5S supplies.
Daryanani cites two major factors that will help push Apple's iPhone sales past last year's launch weekend numbers. First, he notes that China will be included in the launch weekend sales numbers for the first time. Second, he believes that the two price tiers of Apple's devices "should drive demand higher," reports Barron's.
Bachman has a $480 price target and an "Outperform" rating on Apple stock. Daryanani also has an "Outperform" rating, but a higher price target of $525. Here's how Apple has traded over the past five trading sessions.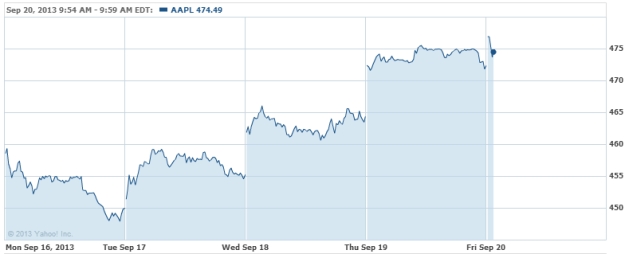 Follow Nathanael on Twitter (@ArnoldEtan_WSCS)
Don't Miss: Will Apple's Early iPhone Debut in China Pay Off?