Will This Apple Rumor Give This Chipmaker a Boost?
Amidst rumors swirling about a possible low-cost iPhone launch this August, the ChinaTimes via AppleInsider is reporting that Apple (NASDAQ:AAPL) will utilize a version of Qualcomm's (NASDAQ:QCOM) Snapdragon SoC (system on a chip) in the cheaper iPhone. According to this unverified report, Apple is planning on having the Taiwan Semiconductor Manufacturing Company Ltd (NYSE:TSM) build the Snapdragon SoC using its 28nm technology.
Is Apple now a once-in-a-decade buying opportunity? Click here to get your 24-page Ultimate Cheat Sheet to Apple's Stock now!
If Apple is indeed planning a launch of a cheaper iPhone for emerging markets like India, the 28nm Snapdragon series will provide a cheaper "all-in-one" platform for a variety of functions, including Wi-Fi and Bluetooth capabilities. Per the TSMC website, "The 28nm family will also provide a wider variety of metal options to support a broad range of product applications for better trade-off between performance and density."
If this unverified report is true, this would be the first time that Apple has used a chip manufacturer other than the Korean company Samsung to produce its processors, which is not an unusual move considering the patent conflicts between the two companies. The ChinaTimes report also claims that Renesas Electronics will provide the LCD drivers for the low-cost iPhone. Reportedly the NAND flash memory will be produced by various sources, including Elpida, Micron Technology (NASDAQ:MU), SanDisk (NASDAQ:SNDK), SK Hynix, and Toshiba…
The cheaper version of the iPhone is also rumored to feature a reworked case, possibly made out of a fiberglass/plastic hybrid material, as opposed to the typical aluminum housing.
The stock market is roaring back in 2013. Click here now to discover winning stocks!
The chart below outlines Apple, Qualcomm, and TSM stock movement over the past week.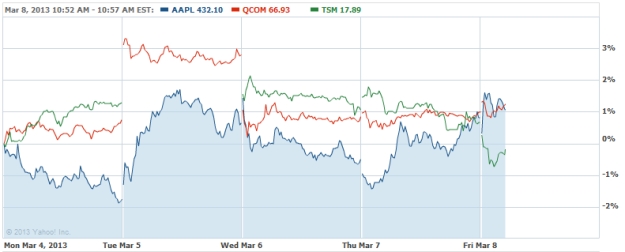 Don't Miss: Will Apple Spill the Beans on Violations of Users' Privacy?