Is This Apple's Next Big Avenue for Growth?
Apple (NASDAQ:AAPL) haters are on a roll. The company's stock has taken a significant hit since peaking above $700, but the current perspective on Apple seems to assume the company is headed down the tubes.
OK. Let's take a deep breath and turn off CNBC's echo chamber. Contrary to the new Apple bear craze, take a look around and things are going great. Moreover, the company is not as ubiquitous as Exxon (NYSE:XOM) gas stations, so there are plenty of avenues for growth.
So what are they? Lower cost iPhones. Even with the free older Apple iPhone option carriers currently subsidize, this market is largely untapped. The potential gains for Apple are…
large. With Apple being able to broaden its reach through a low-cost iPhone, the company could take as much as 65 percent of the smartphone market it currently does not serve, Piper Jaffray analyst Gene Munster said. Munster was referring to the sub-$400 market. Apple isn't competing in this market because of the high price of the existing iPhone models.
"We believe that the high-end smartphone market (above $400 off contract) for [calendar year 2013] will be about 320 million units, of which we believe Apple will capture 50 percent market share," Munster said in a note to investors, according to Apple Insider. "We believe this means Apple is missing the other 65 percent of the market, or 580 million units, given its current product lineup without the lower-priced phone."
Should you buy or sell Apple's stock ahead of earnings this month? Our 20-page proprietary analysis will help you save time and make money. Click here to get your SPECIAL REPORT now.
According to Munster, that growth will be sufficient to ignore the prospect of the reduced margins of a cheaper device…
"We believe the opportunity for Apple is too large to miss, as the low-end market is growing significantly faster than the high-end smartphone market," he said.
Start 2013 better than ever by saving time and making money with your Limited Time Offer for our highly-acclaimed Stock Picker Newsletter. Get our fresh Feature Stock Pick now!
Rumors about Apple preparing to launch a less expensive iPhone to take on the popularity of Google (NASDAQ:GOOG) Android-powered low-end devices have been at an all-time high this week. In a note to investors on Wednesday, Munster had said that such a device could generate $6.5 billion in revenue for Apple. Munster added that he expected Apple to charge around $199 for an unsubsidized cheaper iPhone instead of the $99 range that some others have predicted.
Here's how Apple shares traded the past four days this week and closed today on a swing upward: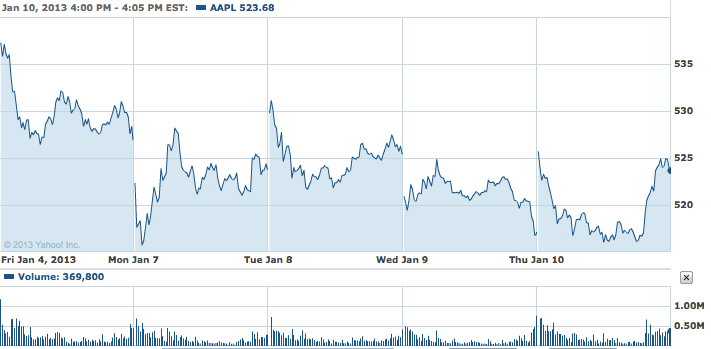 Investing Insights: Apple Chart of the Day: The iPhone Leads the Way.