Will This be the Summer of Apple iRadio?
The rumors of an upcoming Apple (NASDAQ:AAPL) iRadio music streaming service summer debut got a boost on Friday when The Verge reported a breakthrough in Apple's music licensing negotiations with music labels Universal and Warner.
Last month the New York Post reported that Universal, Warner, and Sony (NYSE:SNE) all balked at Apple's initial low music streaming fee offer. Music streaming services typically pay a fee per hundred songs streamed. Pandora (NYSE:P) currently pays the lowest fee of any music streaming service at 12-cents per 100 songs. Apple was reportedly offering 6 cents per song.
According to The Inquisitr, Pandora filed a lawsuit last year in order to force ASCAP to give it a comparable rate to what another internet radio platform, iHeartRadio, was receiving through its Clear Channel (NYSE:CCO) parent company. According to the New York Post, the industry standard is 21 cents per 100 songs.
However, Apple does come to the negotiating table with considerably more benefits to offer to the record companies than a typical internet radio streaming service. According MacNN, "Apple has more than 400 million accounts with credit cards on file, the largest music catalog available anywhere, an enormous base of daily users, a complete mobile and desktop ecosystem, and the commerce infrastructure to easily allow listeners to buy songs they hear and like."
Although progress in Apple's negotiations with the music industry has been reported, it remains to be seen what sort of music streaming service Apple will create. Apple could make its entire catalog available for streaming, or make it a paid service separate from its iTunes catalog.
One possibility is that Apple will merge the music streaming service into its iTunes store so users can purchase songs that they hear on iRadio. This latter model is supported by the discovery of a "Radio Buy" button that was part of the iOS 6.1 update, reports MacNN.
Although observers cannot be certain which music streaming model Apple will debut, there is one thing that is certain. Apple has the potential to transform the music streaming industry in much the same way that it has already changed the way we consume other digital media.
Apple closed down 2.08 percent at $442.66 on Thursday, at the end of a shortened trading week.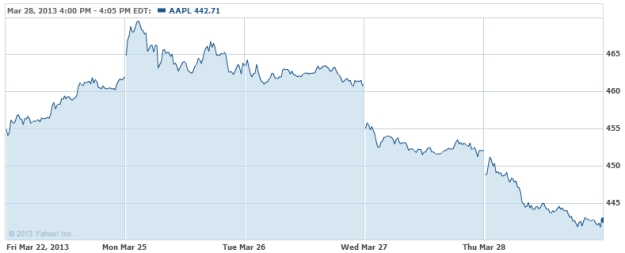 Don't Miss: Are Apple's Struggles in China Just Beginning?