Will This E-Book Trial Testimony Help or Hurt Apple?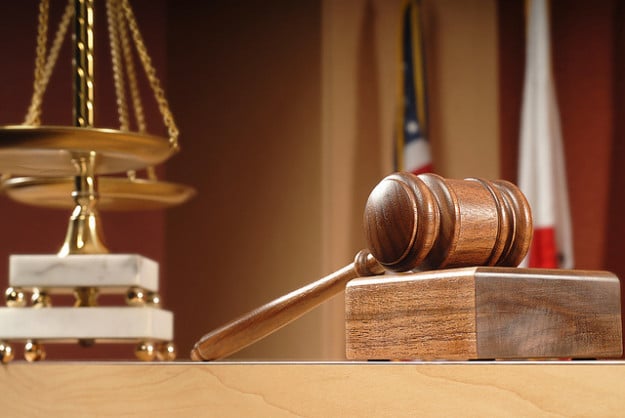 The CEO of Penguin Group gave testimony in Apple's (NASDAQ:AAPL) e-book price-fixing trial that could both help and hurt the Cupertino-based company's defense. First, Penguin CEO David Shanks testified in a deposition that seemed to support the government's assertion that Apple conspired with other publishers to price-fix e-books as a way to challenge Amazon's (NASDAQ:AMZN) dominance of the e-book market.
Shanks stated that Apple's "most-favored nation" clause in its contract forced the publisher to seek agency model contracts with other retailers. Via Reuters, Shanks testified, "The fact that the parity clause was in the contract more or less made it a given we'd have to be at agency." This testimony seems to support the government's contention that Apple's contract gave a strong incentive for publishers to get other retailers on the agency model.
Under the agency model, publishers determine the price for e-books under a certain price cap, allowing Apple to match the retail price of Amazon while taking a 30 percent cut of the sale price. The government contends that this contract forced Penguin to seek a similar deal with other book retailers, which effectively raised the retail prices of e-books. After signing the deal with Apple, Penguin negotiated similar contracts with Barnes & Noble (NYSE:BKS) and Amazon.
However, under cross-examination by Apple's lawyer Orin Snyder, Shanks admitted that the contract discussions with Apple were a "typical negotiation." Shanks also stated that, "It was fairly clear that they could take or leave being in the book business. If they couldn't get it on their terms, they weren't going to take the jump into being in books," reports Bloomberg. The Penguin CEO also testified that the publisher "strongly resisted" Apple's model agency contract. This statement also seems to support Apple's defense that it was engaged in normal pricing model negotiations.
The antitrust lawsuit was originally filed by the U.S. Department of Justice on April 11, 2012. The original complaint also includes a list of Apple's alleged co-conspirators, including Hachette Book Group, Inc.; HarperCollins Publishers L.L.C.; Verlagsgruppe Georg von Holtzbrinck GmbH and Holtzbrinck Publishers, LLC (doing business as Macmillan); The Penguin Group Inc.; and Simon & Schuster, Inc. However, all of the other defendants have already settled with the U.S. government and Apple is the only remaining defendant in the case. Penguin paid $75 million to settle its case with the government on May 22.
The trial, which started on June 3 in the District Court for the Southern District of New York, is U.S. v. Apple Inc., 12-02826. Here's how Apple has traded so far this week.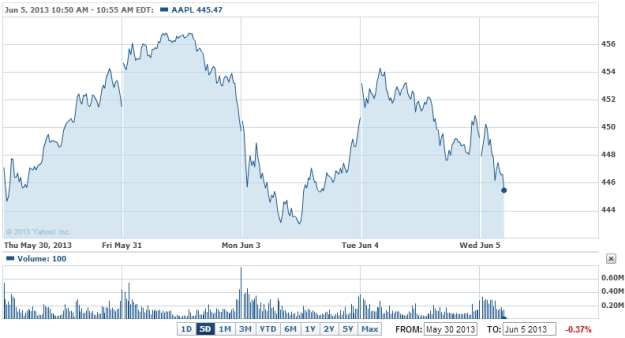 Follow Nathanael on Twitter (@ArnoldEtan_WSCS)
Don't Miss: Samsung Triumph: ITC Bans These Apple Products.