Will This Former Apple Employee Give Samsung a Competitive Edge?
Did Samsung (SSNLF.PK) poach an important human-computer-interaction expert from Apple? A former Apple (NASDAQ:AAPL) engineer who worked on the Cupertino-based company's Siri project is now helping Samsung develop an "Internet of Everything," reports James Niccolai of IDG News Service via MacDailyNews.
According to his official website, Dr. Luc Julia was a "Director" of Siri from 2011 to 2012. Dr. Julia noted that he, "Reorganized and oversaw all the pieces of Siri: client and server Development, Speech, Operations, QA."  Apple's Siri team more than doubled in size during Dr. Julia's tenure, growing from 40 to 85 members. He also added Analytics and Research groups to the Siri team.
However, now this key developer of Apple's voice-activated personal assistant is lending his skills to rival smartphone maker Samsung. According to Samsung's official website, Dr. Julia is a "vice president and Innovation Fellow at the Samsung Strategy and Innovation Center." His responsibilities at Samsung include "defining the vision and strategy for the Internet of Everything by creating an open ecosystem for connected objects."
Dr. Julia recently demonstrated the platform for this "open ecosystem for connected objects" at a tech conference in California, reports IDG News Service. SAMI, or Samsung Architecture for Multimodal Interactions, is intended to be an open platform for wearable tech devices, home automation systems, and vehicles.
As part of the demonstration, Dr. Julia showed how SAMI could be used to create a personal health-monitoring service by consolidating information from various apps and devices into one app. According to IDG News Service, Dr. Julia also demonstrated how SAMI could answer natural language queries in a "Siri-like fashion."
Although SAMI is similar to Siri in the sense that it collects data from many different sources and can understand natural language, it is not designed to be personal assistant. Instead, it is designed to be the "Android" of wearable tech devices and other objects that will inhabit the "Internet of Everything."
One major obstacle that Samsung will have to overcome is its inexperience with software in general. "It's something Samsung doesn't know very well today, because Samsung is a hardware company," admitted Dr. Julia. "But we want to enter the space, and offer something different from iCloud."
"We're doing this normalization and delivering the data through an API [application programming interface], because people don't want to learn all the APIs for all the individual products," said Dr. Julia via IDG News Service. Samsung currently has around 50 partner companies that are helping to test the platform, including smartwatch maker Pebble and health-monitoring device maker FitBit.
In this sense, Samsung's SAMI platform is more likely to become a competitor to Apple's rumored iWatch, rather than a competitor to Siri. According to insider sources cited by Mark Gurman at 9to5Mac, Apple is developing a wearable tech device that will feature many health-monitoring functions. Although the iWatch rumors cannot be confirmed, the inclusion of the motion-sensing M7 coprocessor in the new iPhone 5S demonstrates Apple's ongoing interest in health-monitoring technologies.
Here's how Apple has traded over the past week.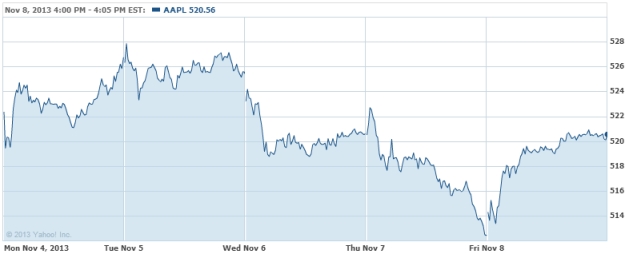 Follow Nathanael on Twitter (@ArnoldEtan_WSCS)
Don't Miss: Rumor: Large, Curved iPhones Coming in 2014.