Will This Good Apple Go Bad?
Apple (NASDAQ:AAPL) and Samsung (SSNLF.PK) have finally beaten Nokia (NYSE:NOK) in global Internet usage from smartphones, with the iPhone maker topping the charts for the first time ever. More than a quarter of global Internet traffic on mobile devices went through Apple devices in January, according to data from web analytics company StatCounter. Nokia, which led in January 2012 with 37.67 percent, fell to third place.
However, Apple's share of mobile Internet traffic actually dropped from 28.67 percent in January last year to 25.86 percent this year. Samsung's share grew from 14.84 percent to 22.69 percent, while Nokia's share dropped from 37.67 percent to 22.15 percent. The numbers do not take into account tablet data, but do include other pocket-sized mobile devices such as the iPod touch.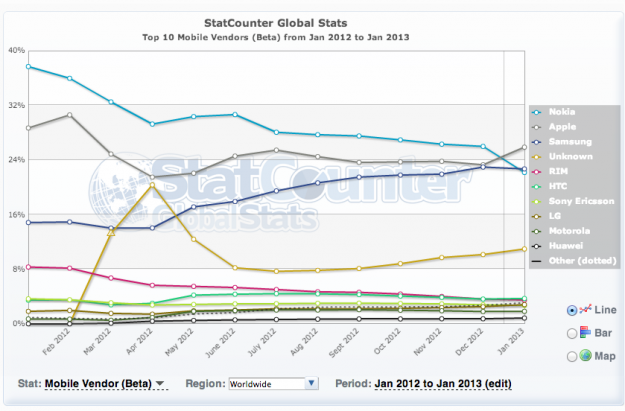 "It's good and bad news for Apple," StatCounter's Aodhan Cullen said in a statement. "Apple has been handed the number one spot despite its falling usage share. A decline in Nokia usage from January 2012 to January 2013 means the Finnish company ceded the top spot to Apple. Samsung, in contrast to Apple, has seen an increase in its usage share since January 2012."
The regional divisions were also sobering for Apple.
While the iPhone maker had a big lead in the North American market and took around half of the region's market share compared to a 14 percent for Samsung, its performance elsewhere was worrying. In Europe, Apple's came in at just under 40 percent compared with about 25 percent for the Korean company. In Asia, Nokia held onto its lead despite seeing a decline. Samsung came in second with just over a quarter of the market, while Apple was fourth with just over five percent share.
StatCounter's GlobalStats are based on an analysis of more than 15 billion page views per month to its network of more than three million websites.
Don't Miss: Will This Make Apple's Stock Shine Again?