Will This Make Apple's Stock Shine Again?
Apple's (NASDAQ:AAPL) current margin and profitability problems are set to end soon and point at the imminent arrival of a new iPhone 5S, Morgan Stanley analyst Katy Huberty has said. Huberty also reiterated an Overweight rating on Apple shares as well as a $630 price target.
According to the analyst, Apple's gross margins — one of the biggest current points of concern for the company's shareholders — will start rising significantly in the second half of the year, pulling the share price along. The analyst made the assertion after looking at Apple's latest filing with the U.S. Securities and Exchange Commission. Margin "volatility does not appear entirely structural," but cyclical and related to a forthcoming iPhone 5S, she wrote in a note to investors on Monday.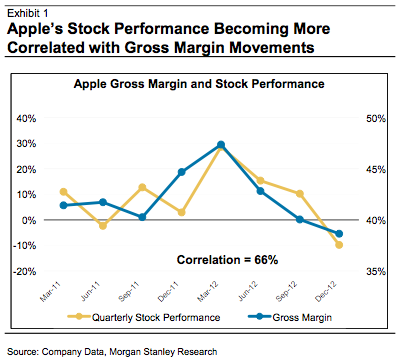 According to Huberty, the next iteration of the company's smartphone, the iPhone 5S, will require lower planned purchases of production equipment. According to the securities filing, Apple has made a commitment of $904 million for equipment purchases, compared to the $4.5 billion it spent two quarters ago when it invested in in-cell touch displays for the iPhone 5. This massive drop points at the fact that the iPhone 5S will not require any significant hardware changes and signals higher margin yields.
In addition, while flash memory prices were sky high December, they will eventually ease, Huberty said. According to the analyst, a more favorable NAND price trend was consistent with Apple increasing memory in the 9.7-inch iPad last week. This trend will give Apple a cost advantage relative to spot prices and, in turn, help its gross margin.
Huberty also pointed out that Apple's off balance sheet purchase commitments were not worse than seasonal figures. Purchase commitments of $19.8 billion fell 10 percent quarter-over-quarter against a five-year average of 12 percent.
While Huberty lowered her price target on Apple to $630 from $714 after last month's earnings report, her bull case scenario has the stock hitting $980 by next February. However, that scenario will have to ensure that Apple releases a new iPad and a lower-cost iPhone this summer, makes a deal with China Mobile (NYSE:CHL) by 2014, and returns more cash to shareholders. (Chart credit: Morgan Stanley)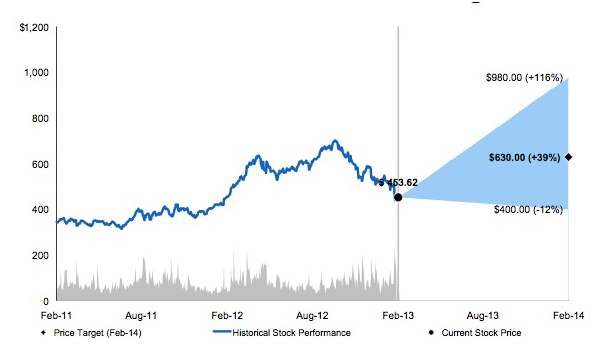 Apple warned that its margins were likely to fall to between 37.5 percent and 38.5 percent this quarter. Its margins peaked in March last year at 47.4 percent, helping spark a rapid and steep rise in stock price until mid-September. For the full fiscal year, Huberty has modeled gross margins of 38.7 percent, down from 43.9 percent in fiscal 2012.
Don't Miss: Can Apple Clean Foxconn's Labor Image?