Will This New Apple Patent Fend Off Copycats?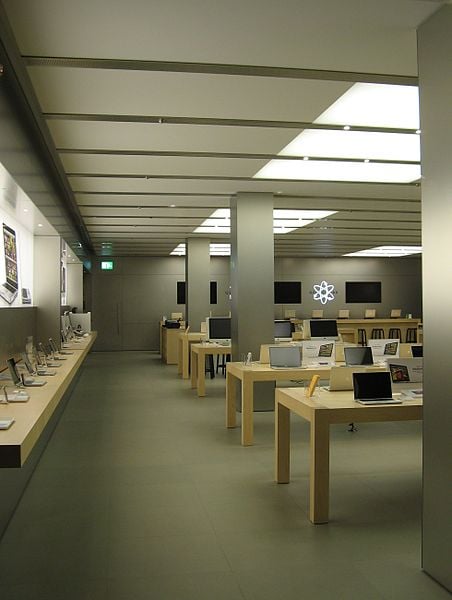 In the tech company's latest move to protect its much-imitated designs, Apple (NASDAQ:AAPL) has officially trademarked the sleek, minimalist layout of its retail stores. The U.S. Patent and Trademark Office rejected their bid twice for not being "inherently distinctive," but eventually Apple's perseverance was rewarded. And this is not the first time this has happened — Microsoft (NASDAQ:MSFT) trademarked its own store design in 2011.
The descriptions of the patented store detail "a primarily glass storefront, rectangular recessed lighting traversing the length of the store's ceiling, Cantilevered shelving and recessed display spaces along the front side walls, rectangular tables arranged in a line in the middle of the store parallel to the walls and extending from the storefront to the back of the store, multi-tiered shelving along the rear walls, and an oblong table with stools located at the back of the store below video screens in the back wall."
Most recently, amid their much-publicized war with Samsung (SSNLF.PK), Apple successfully patented the rounded rectangles that figure prominently into the designs of the iPad and iPhone. And in 2011, Apple shut down 22 copycat stores in the Chinese city of Kunming that were not only unauthorized to sell their products, but also featured similarly-designed stores and employee uniforms. What will be next?
Don't Miss: Apple's New iPad Takes Aim.