With Nook and Samsung Out of the Way, Kindle Gets Ready to Play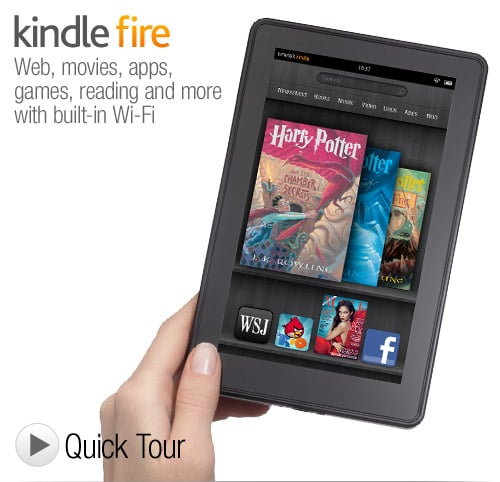 According to a source close to the inner workings at Amazon.com Inc. (NASDAQ:AMZN), who prefers to remain unnamed, the company is in the process of preparing at least three new Kindle Fire tablets that could potentially be ready for market release before Christmas this year.
In 2007, Amazon introduced its first Kindle, a revolutionary portable reader that wirelessly downloads books, magazines, newspapers, blogs and personal documents to a high-resolution electronic ink display that looks and reads like real paper. Since then, the company has had success with it's Kindle slate series but analysts and studies reveal they remain the second most desired tablet behind Apple's (NASDAQ:AAPL) iPad. Samsung did surpass Kindle moving into second place last year but its e-readers are currently struggling in the market. Couple that with the recent demise of Barnes & Noble Inc.'s (NYSE:BKS) Nook and these factors may serve as an additional boost for the new Kindle products rumoured for release in September this year.
According to joint research collated by BookScan's print data and Kantar's panel of 15,000 UK consumers aged 13-70 in April this year, the popularity of Kindle is going from strength to strength. They said that approximately eight million people in the UK own a Kindle, while the Kindle Fire makes up 22 percent of U.S. tablet sales. The source close to Amazon revealed Amazon's first new slate will be a replacement for the 7-inch Kindle Fire, the company's entry-level tablet currently being sold for $159.
While the display's diagonal measurement will remain unchanged, Amazon has allegedly gone with a new panel that features a higher resolution of 1,280 x 800 pixels, the same pixel count presently found on Amazon's Kindle Fire HD. The current base Kindle Fire model uses an in-plane switching display with 1,024 x 600-pixel resolution. Amazon's upcoming new tablet lineup will also include a brand new version of the Kindle Fire HD. As is the case with the Kindle Fire, the Kindle Fire HD's display will be upgraded with an improved panel featuring 1,920 x 1,200-pixel resolution, a substantial upgrade from the 1,280 x 800-pixel screen in the current model.
The third release is anticipated to be an upgraded version of the Kindle Fire HD 8.9-inch. The current 8.9-inch model already features a display with a better-than-1080 pixel resolution at 1,920 x 1,200 pixels, but the updated version is proposed to bump up the pixel count to 2,560 x 1,600. According to the source close to Amazon, the new models are lighter, feature a more angular design and have repositioned power and volume buttons, located on the sloping area on the back of the case, to avoid accidental activation. An Amazon spokesperson refused to comment and stated that "The company does not comment on rumors and speculation." However multiple sources agree that they expect to see the new Kindle line released this fall.