Woz: Apple and Google Should Work Together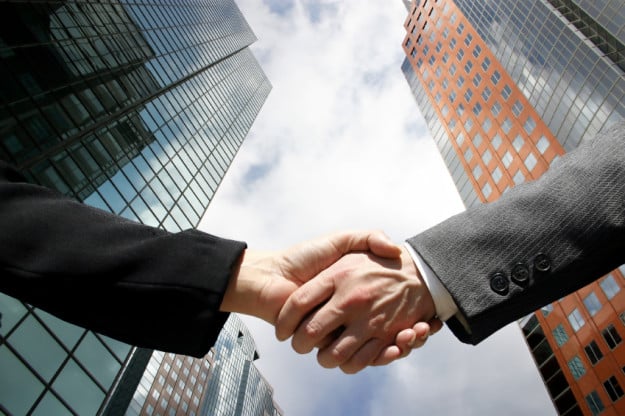 Steve Wozniak shared his thoughts on the possibility of closer cooperation between rival tech companies — such as Apple (NASDAQ:AAPL), Google (NASDAQ:GOOG), and Samsung (SSNLF.PK) — in a recent interview on the BBC's "Click" program. The outspoken Apple co-founder has previously offered his frank assessments of Apple's new products and uncensored opinions about inaccurate film portrayals of Apple's history.
Although Wozniak loves Apple's products, he told the BBC that he is often disappointed with the capabilities of Siri, Apple's voice-activated personal assistant. "Sometimes I say 'Go to Joe's Diner' and [Siri] doesn't know where Joe's Diner is. And very often usually I find out that Android does," stated Wozniak.
Wozniak noted that this is likely due to Android's access to Google's search engine. For this reason, he wished that Apple and Google would collaborate on creating a better personal assistant that could benefit all users, regardless of what operating system they used.
"That is actually the future of intelligence probably for computers getting smarter and getting artificial intelligence," Wozniak told the BBC. "I wish to God that Apple and Google were partners in the future."
"Woz" admitted that he doesn't know much about the practical business concerns that would have to be addressed before a partnership between these two tech rivals could be created. "One thing you've got to remember is a company has always got to make money," observed Wozniak.
However, if the "business concerns" could be resolved, the increased cooperation between rival tech companies would create enormous benefits for consumers, noted Wozniak. The Apple co-founder would also like to see Samsung and Apple share certain smartphone technologies.
"I believe you should have a world where you've got to license something at a fair price," Wozniak told the BBC. "There are good things I see on Samsung phones that I wish were in my iPhone. I wish Apple would use them and could use them, and I don't know if Samsung would stop us."
Apple and Samsung have sued each other multiple times over patent infringement in various courts around the world. The two smartphone rivals have an upcoming trial scheduled for November 12 that will determine how much Samsung must pay Apple in remaining damages over 13 infringing products.
Although the two rivals' ongoing litigation makes the prospect of collaboration between Apple and Samsung rather unlikely, Wozniak can't help but dream of a better world. "I wish everybody just did a lot of cross-licensing and sharing the good technology, all our products would be better, we'd go further. I do wish they were more compatible," lamented Wozniak.
Here's how Apple has traded over the past week.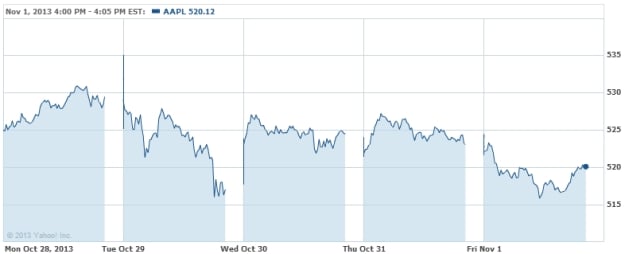 Follow Nathanael on Twitter (@ArnoldEtan_WSCS)
Don't Miss: How Much Is the U.S. Using Tech Company Servers to Spy?