Yahoo App Lets People Channel Surf on Their iPhones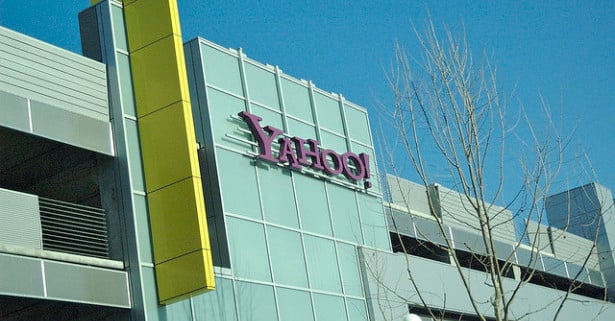 Yahoo (NASDAQ:YHOO) has been getting cozy with Apple (NASDAQ:AAPL) lately to help further Chief Executive Officer Marissa Mayer's goal to make the company a more capable player in mobile. On Tuesday, Yahoo announced a new app for iOS devices called Yahoo Screen, which seeks to recreate the experience of channel surfing on mobile. The announcement comes just in time for Apple's release of the new iPhone lineup late Tuesday afternoon.
The app allows users to flip through channels of Yahoo's video content by swiping the screen left or right to change episodes and up or down to change channels. "Together we've built Screen as a simple, intuitive experience that turns your finger into a remote control. Just swipe through channels of content from Yahoo and our great partners then lean back and watch," Yahoo director of Product Management Robby Stein said in the company's press release.
Yahoo also revealed that it has struck a deal with Viacom (NYSE:VIA) to provide clips from popular Comedy Central shows through the app. In addition to Yahoo's previous acquisition of the Saturday Night Live archives, the company believes comedy videos are worth its money and energy. Stein made a point to say that Yahoo Screen would offer its users "1,000 hours of comedy to watch."
Yahoo has made Apple-specific apps in the past, including the Finance and Weather apps that come pre-installed on iPhone devices. The Yahoo Weather app has won an iOS design award from Apple and the Finance app was recently updated for iOS 7. Yahoo Weather was only recently made available for Google's (NASDAQ:GOOG) Android devices, so it might be awhile before Android users get Yahoo Screen.
One of Mayer's lofty goals as Yahoo CEO is to improve the company's media offerings with the hopes of being able to compete with Google's YouTube. In addition to the Viacom deal, Yahoo recently announced some plans for original Web-based video content, including a talk show with celebrity reporter Katie Couric and a video series from fashion bible Vogue magazine.
It's been reported that Mayer herself will have a heavy hand in the Couric show, and is looking to hire a television executive to replace the company's current media chief. The company's second-quarter earnings report was presented in the form of a television news broadcast, and in it, Mayer affirmed her commitment to growing Yahoo's media offerings. Now that the company has gained some popular content and an attractive interface in which to display it, Mayer seems well on her way to making her mobile and media improvements.
Follow Jacqueline on Twitter @Jacqui_WSCS
Don't Miss: Why Is Apple Boosting Its Marketing Team?