You Won't Believe How Much This Apple Computer Costs
Typically, the cost of a computer technology is roughly based on its production cost as well as the novel or useful functions that it offers. However, sometimes a technological artifact can be expensive based purely on its historic significance or sentimental value. The Apple (NASDAQ:AAPL) 1 definitely falls into the latter category. The New York Times has reported that an Apple-1 computer sold today for a record $671,400.
Earlier this month it was reported that this Apple-1 computer would be sold at auction in Germany by Auction Team Breker. It was expected to fetch somewhere in the range of $261,000 to $392,000. However, the Apple-1 computer ended up collecting a record total of $671,400 after fees and taxes. According to auctioneer Uwe Breker, the anonymous buyer is from the Far East.
This latest sale shatters the previous record of $640,000 that was set at the same auction house last November. That sale was also considered unprecedented since the previous sale of an Apple-1 at British auction house Sotheby's was for a mere $374,500.
Auction Team Breker shows offs the Apple-1's graphic capabilities with crudely rendered pictures of "Woz," Jobs, and the original Apple logo in this auction demonstration video.
Besides the obvious historical value of such a rare technological artifact, there are charming personal touches from two of Apple's original co-founders. The computer was assembled by Steve Wozniak in Steve Jobs' family garage. A letter to the original owner from Steve Jobs offers to upgrade the Apple-1 to the Apple 4K II for a $400 fee. The previous owner also managed to get Wozniak's signature which can be found under the motherboard.
The Apple-1 debuted in 1976 and was considered a ground-breaking step forward since it included a fully assembled circuit board. It originally retailed for the odd price of $666.66 although users could upgrade the memory with a $72 cassette storage add-on. $666 is about $2,700 in current dollars. In the days of do-it-yourself computer assembly, this stripped-down Apple machine didn't include a power supply, keyboard, monitor, or even a casing. Only 200 of these rare units were ever produced and approximately 50 are estimated to be in existence today.
The New York Times contacted the original owner of the Apple-1 that recently sold at auction and discovered that he sold the device earlier this year for $40,000. When told that the Apple-1 recently sold for $671,400, the original owner responded, "My God."
Here's how Apple has traded over this past week.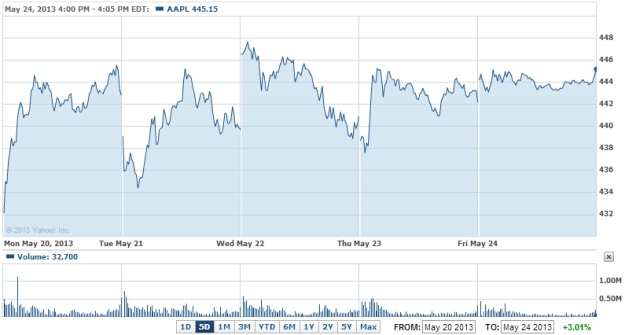 Follow Nathanael on Twitter (@ArnoldEtan_WSCS)
Don't Miss: Is This a Colorful Glimpse of the Low-Cost iPhone?