Zynga Falls Behind King In Monthly Users On Facebook and 2 More Heavily Traded Stocks to Follow
Zynga (NASDAQ:ZNGA): Current price $3.27
Zynga's Monday coup when it chose Don Mattrick as its new chief executive has been somewhat diminished on the news that it has been beaten by the social gaming company King, in monthly active users on Facebook's platform. King now has 150.2 million users, versus Zynga's 149.9 million tracked through Facebook, says AppData. The new rankings might become permanent, unless Zynga can find a way to rebound its growth. Meanwhile, King has recruited JPMorgan, Credit Suisse and Bank of America to underwrite its initial public offering.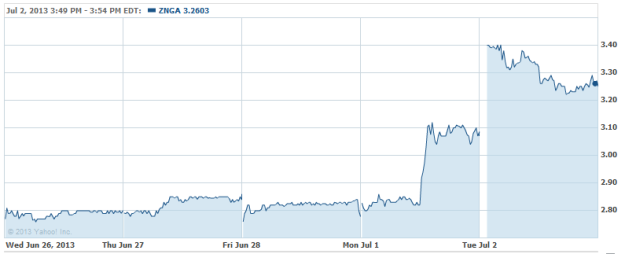 Oracle Corporation (NASDAQ:ORCL): Current price $30.10
The Oracle Enterprise Manager 12c Release 3 addresses the challenges to private and public cloud service providers who are unable to exploit the cloud due to inefficiencies in IT management, with new enhancements for managing infrastructure, middleware, and applications, permitting IT service providers to be more agile, while further lowering the costs and complexity of their cloud and enterprise IT environments. Cloud adoption is increasing across many industries while organizations are looking for the agility benefits inherent in cloud computing.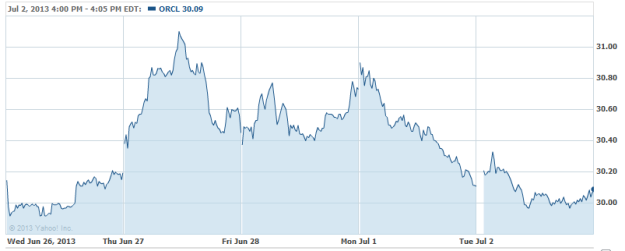 Apple (NASDAQ:AAPL): Current price $418.49
Apple says that it will pay for the building of an 18-megawatt photovoltaic solar plant in northern Nevada, to supply power for a data center that is planned east of Reno. The Fort Churchill Solar Array will be constructed in Yerington, and was included in a Monday filing by NV Energy with the Public Utilities Commission. Apple announced its plans in 2012 to build the data center and the solar generating plant would be located in Lyon County, which is south of that facility. However, the proposal for the solar plant must be okayed by state regulators, which might take several months.