Zynga: Users and Shares are Dropping Like Flies
After an impressive start to the year, it appears to be game over for Zynga (NASDAQ:ZNGA) shares today. The world's leading provider of social media games announced better-than-expected financial results for the second quarter, but investors are worried about the future of the company.
Zynga, which is best known for FarmVille, reported late Thursday that it lost $15.8 million on revenue of $231 million for the three months ended June 30, 2013. Excluding items, the company lost 1 cent per share. Analysts expected a loss of 4 cents per share on revenue of about $185 million. Despite a beat on the top and bottom line, users are dropping like flies.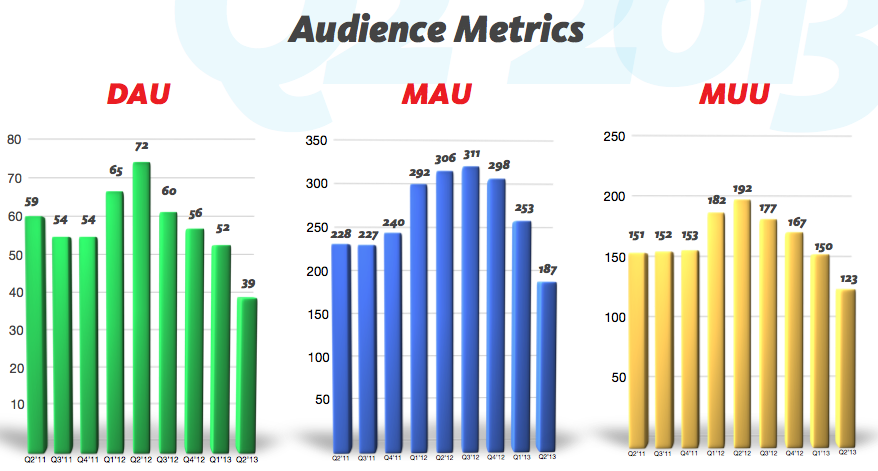 Over the past year, the number of daily active users at Zynga have almost been cut in half. In the recent quarter, the company logged 39 million daily active users, a sharp decline from 72 million users a year earlier. Meanwhile, the number of monthly active users have dropped from 306 million to 187 million over the same period.
Making matters worse, Zynga announced it will not pursue a license for online gambling in the United States, which was expected by many investors as a way for Zynga to attract more users and revenue. In December, the company submitted an application for a license in Nevada.
"Zynga believes its biggest opportunity is to focus on free to play social games," the company explained in a statement. "While the Company continues to evaluate its real money gaming products in the United Kingdom test, Zynga is making the focused choice not to pursue a license for real money gaming in the United States. Zynga will continue to evaluate all of its priorities against the growing market opportunity in free, social gaming, including social casino offerings."
Mr. Market was not happy with the news. On Friday, shares of Zynga plunged more than 17 percent on heavy volume. Almost 50 million shares were traded on the Nasdaq, compared to the company's 10-day average volume of about 24 million shares.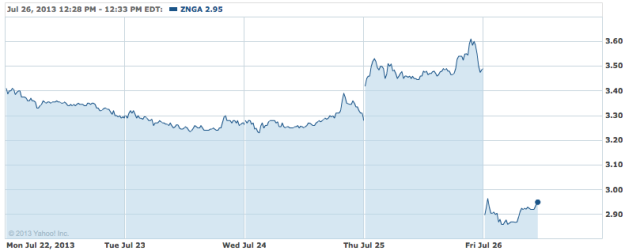 On the positive, shares of Zynga are still up 23 percent year-to-date. Other popular Internet names such as Facebook (NASDAQ:FB) and LinkedIn (NYSE:LNKD) are up 29 percent and 80 percent for the year, respectively.
Zynga had seven hit games on Facebook a year earlier, but only three in the most recent quarter. Don Mattrick, chief executive officer of Zynga, noted, "It's clear that the market opportunity around us is growing at an incredible clip. It's also clear that today we are missing out on the platform growth that Apple (NASDAQ:AAPL), Google (NASDAQ:GOOG), and Facebook are seeing."
Don't Miss: Consumer Sentiment Jumps to Best Level Since 2007
Follow Eric on Twitter @Mr_Eric_WSCS