Apple's Earnings Expectations: Burst Bubble or Reality Check?
Is the era of Apple (NASDAQ:AAPL) as a phenomenon stock about to end? Apple will be releasing its earnings report for its fiscal second quarter this Tuesday and analyst consensus is that the company will post a year-over-year net profit decline for the first time in a decade. Apple shares peaked at $705.07 last September but have since lost 44 percent of its value reports Bloomberg.
According to FactSet (NYSE:FDS) via Bloomberg, analysts are anticipating quarterly revenue of $42.45 billion, with expected earnings of $10.03 per share. Similarly, Apple has indicated it expects revenue between $41 billion and $43 billion, reports Bloomberg. Last year in the same quarter, Apple had $39.2 billion in revenue and earnings of $12.30 per share. As senior GreenCrest Capital analyst Max Wolff states via CNBC, "The company is now trading as a stock, as opposed to a phenomenon."
Some analysts attribute Apple's earnings decline to the increasing competition from rival phone makers like Samsung (SSNLF.PK) and other companies that make mobile devices that utilize Google's (NASDAQ:GOOG) Android platform. Other analysts point to Apple's problematic cannibalization of its full-size iPad sales by its smaller, less profitable iPad mini device.
However, Apple may also be "a victim of its own success," states Fox Business. After helping to establish the smartphone and tablet markets with the release of the iPhone in 2007 and the iPad in 2010, expectations for the Cupertino-based company are unusually high…
Although Apple is expected to have total cash reserves of $177 billion by the end of 2013, Apple's enterprise value has "shrunk to levels which value the company at around the same price as three of its most comparable competitors, Google, Microsoft (NASDAQ:MSFT) and Samsung," states Scott Krisiloff of Avondale Asset Management. Enterprise value is calculated by adding market capitalization to debt, then subtracting total net cash. However, Google typically produces quarterly revenue of around $13 billion, which is less than a third of what Apple generates reports.
In this sense, Apple's decline in stock market value has less to do with any actual loss of value as a company and more to do with a psychologically perceived loss of value from its heady highs last year. Behavioral Macro blogger Mark Dow states via CNBC that "This is really just psychology. You don't have to know anything about gold or anything about Apple to spot a bubble. It's just what happens when something becomes over-loved." Despite the recent dip in stock, Apple is still the world's most valuable public company reports.
Apple shares closed at $390.50 on Friday after shedding $1.55, or 0.40 percent, from its price at the opening bell.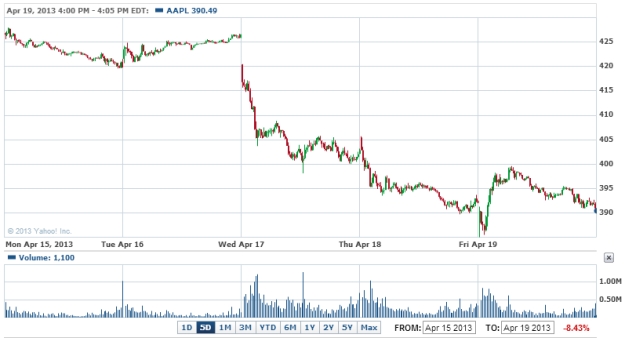 Don't Miss: Apple's iPad Owners Can't Get Enough.