Apple's Having a Bad Day and 2 Other Tech Titans Making Noise
Google (NASDAQ:GOOG): The company chose 8,000 people who are going to be given a chance to wear a pair of Internet-connected glasses. Those were chosen by Google won a contest that was conducted last month requiring U.S. residents to submit 50-word applications via Twitter or Google's Plus to explain how they would use a technology being hailed as the next breakthrough in mobile computing. After it went through some of the ideas that were submitted with the hash tag "ifihadglass," Google started to notify  the winners on Tuesday.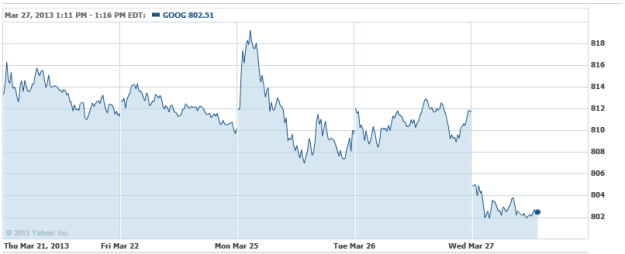 Microsoft (NASDAQ:MSFT): Ericsson (NASDAQ:ERIC) has been talking with Microsoft about buying its mobile-TV service, reports Bloomberg. For years, Microsoft has operated a software division giving mobile carriers the technology to deliver television service over their connections. Now, the company is in talks with Ericsson to sell the division, allowing it to focus on delivering this service via Xbox. For Ericsson, the upside of acquiring Microsoft's division would allow it to deliver another service to its wireless customers. Microsoft's strategy is driven by delivering an all-encompassing service to wireless providers, and offering television could be the next step in its plans.

Apple (NASDAQ:AAPL): Pacific Crest's Andy Hargreaves reiterated a Sector Perform rating on Apple shares, and the analyst warns that the company is likely to miss expectations for fiscal Q2, ending in March, when it reports in April, and it will likely miss estimates for the June-quarter outlook. This is mainly due to lower outlook for the iPad. Hargreaves decided to reduce his Q2 estimate to $41.1 billion and $9.60 per share in net profit from his previous $41.8 billion and $9.89 per share, which is lower than the average $42.77 billion and $10.14 per share. Additionally, he reduced his Q4 estimate to $33.5 billion and $7.16 per share from a previous $37.1 billion and $8.32 per share, which is lower than consensus for $39.78 billion and $9.41 per share.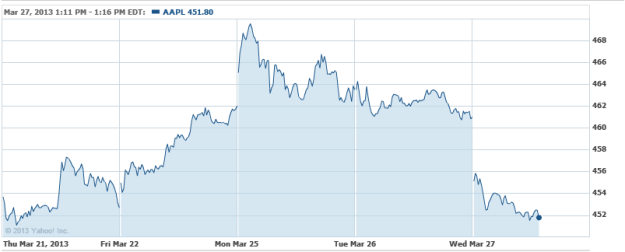 Don't Miss: Apple vs Samsung: Did the Court Make a Mistake?