Apple's iFail: More iMessage and FaceTime Outages
As many people and companies should know, the first step to fixing a problem is admitting that you have one. When it comes to iMessage and FaceTime, Apple (NASDAQ:AAPL) seems to be having a problem doing either. For the second time in less than a week, Apple's iMessage and FaceTime services were down for well over an hour.
As if dealing with long outages of important and popular services like iMessage and FaceTime isn't annoying enough, Apple has been compounding some users' frustrations by failing to provide timely updates on its System Status page.
Apple user Seth Weintraub summarized users' frustrations in his tweet via 9to5Mac that states "Apple: Don't look to our laggy system status page to see if iCloud is down. Check the blogs which are an hour ahead of our reporting system." As 9to5Mac notes, "When Apple does admit any downtime, it typically downplays the issue" rather than being upfront with frustrated users.
As Nixon discovered in the Watergate scandal; sometimes the cover-up is worse than the crime. Apple should take that history lesson to heart and give its users an honest and timely response to the recurring problems it is having with its FaceTime and iMessage services…
Apple shares are down $3.80, or 0.87 percent, at $430.53 in early Friday afternoon trading.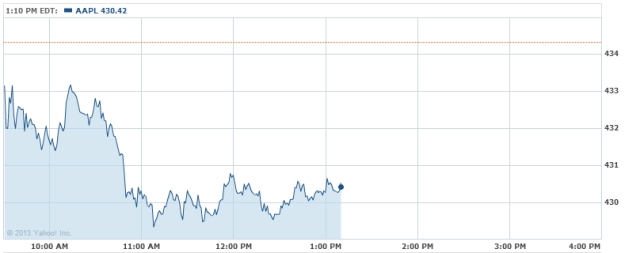 Don't Miss: Will Apple Lose the Indian Market to Cheaper Alternatives?