Apple's Investors Set To Get This Gift Tomorrow
With its capital allocation practices squarely in the limelight, Apple (NASDAQ:AAPL) is set to pay out its third dividend sum to shareholders on Friday. The company is scheduled to distribute about $2.5 billion at $2.65 per share across its 939 million outstanding shares. Shareholders on record as of February 11 will receive payment.
While Apple did not have a dividend system in place for more than 17 years, it initiated a $45-billion worth plan last year under chief executive Tim Cook while its stock hovered around $550 per share. The company also decided to start buying back stock from board members and other executives of the company. Apple's share price broke the $700-mark in September, but has since fallen fairly rapidly and consistently over the last few months.
Apple is one of the highest dividend payers in the U.S. in absolute terms, but its current payment rate is fairly modest when compared to its cash position that was worth $137 billion at the end of December.
Some experts believe an announcement of a dividend increase can help resurrect the company's share price, proving to be the catalyst it has sorely lacked over the past few months…
Morgan Stanley analyst Katy Huberty calculated that Apple could easily add $13 billion to its annual dividend payouts. Doing so was "a viable option given our conservative free cash flow estimates assume Apple generates $21 billion of [domestic] free cash flow this year and would still end the year with $36 billion of US cash on hand," Huberty wrote in a research note this week.
The company was sued by hedge fund Greenlight Capital last week for its dividend payment and stock issuance practices. Greenlight, led by manager David Einhron, has asked for Apple to increase dividend payouts and also wants it to start issuing preferred stock with a perpetual 4 percent yield.
The case is currently in court, with Apple filing its official response on Wednesday. The issue is also likely to take center stage at Apple's annual shareholder meeting on February 27, where one of the proposals in the company's proxy for common vote is being opposed by Einhorn.
Here's how Apple (NASDAQ:AAPL) traded Thursday: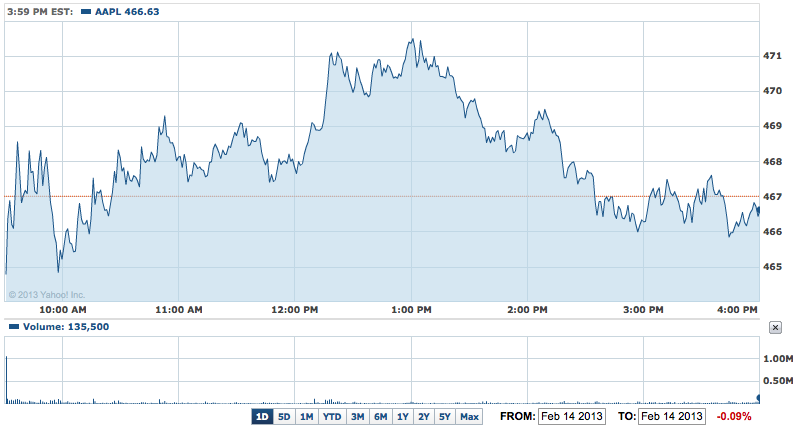 Don't Miss: Apple: We Want to Empower Investors.