Apple's iOS is Eating Android's Mobile Traffic Share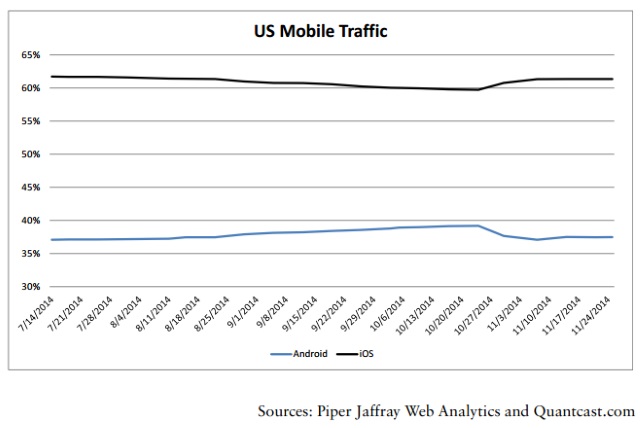 In what appears to be yet another sign that the launch of Apple's larger-screen iPhone models has been an unprecedented success, iOS mobile traffic in the U.S. has increased since the new iPhone 6 and iPhone 6 Plus models launched a little over two months ago. According to Quantcast data cited by Piper Jaffray analyst Gene Munster in a recently released research note, iOS mobile traffic share has increased to 61.4% from the 60.6% share it held prior to the launch of the latest iPhone models. Meanwhile, Android mobile traffic share slipped to 37.5% from 38.4% over the same time period. Since the percentage of mobile traffic coming from "Other" operating systems has remained unchanged at 1.2%, Quantcast's data suggests that some Android users have switched to iOS. Quantcast derived its data from looking at two billion unique monthly mobile page views, or about 3% of the U.S. viewing market.
As noted by Munster, although Apple's iPhone is believed to hold only about 33% of the U.S. smartphone market, iOS has long dominated mobile traffic share in the U.S. Munster says this is likely due to iOS users being "more engaged with their phones on a daily basis than Android users," as well as "iOS' contribution from tablets, which are likely to generate more traffic than a smartphone."
The greater amount of mobile traffic generated by tablets is widely believed to be due to the devices' larger screens that are more conducive to browsing the Internet. Since Apple's latest iPhone models increased in screen size to 4.7 inches and 5.5 inches from the 4-inch screen size of the iPhone 5S, it follows that the boost in iOS mobile traffic is likely due to new iPhone model owners spending more time browsing the Internet on their devices, as well as new model sales.
This change in iPhone users' media consumption habits was also recently documented by the company that makes the Pocket app. According to Pocket, iPhone 6 and iPhone 6 Plus owners are increasingly using their large-screen devices more like tablets than traditional smartphones. Per the company's data, users who own an iPhone 6 or an iPhone 6 Plus as well as an iPad are now spending more time consuming media on their larger-screen smartphones than on their tablets.
This trend might spell more bad news for Android down the road, since other studies have shown that Apple is also stealing Android's share of the "phablet" market — the market for phone-tablet hybrid devices with a screen size of 5.5 inches or greater. According to recently released data from market research firm Kantar Worldpanel, Apple's iPhone 6 Plus has already captured 41% of phablet sales in the U.S. for the three-month time period ending in October, despite having only been available since late September. Apple's rapid growth in this market segment was reflected by the overall increase in phablet sales. According to Kantar Worldpanel, phablet sales accounted for 10% of all smartphone sales in the U.S. during the same time period, up from 2% last year.
The full impact of Apple's new larger-screen iPhone models on Android's market share will become more apparent after the California-based company reveals its sales numbers for the current holiday quarter. However, at least one Apple-focused analyst — KGI Securities Ming-Chi Kuo — has already forecast record quarterly iPhone sales of 71.5 million units, according to 9to5Mac. Based on iOS' increased mobile traffic share and the popularity of Apple's new larger-screen iPhone models, Piper Jaffray's Munster maintained his "Overweight" rating and $135 price target on Apple shares.
Follow Nathanael on Twitter @ArnoldEtan_WSCS
More from Tech Cheat Sheet: