Apple's iPad Owners Can't Get Enough
Apple's (NASDAQ:AAPL) iPad has reasserted its dominant lead as the number one device for tablet web traffic in the North American market. The latest data from online advertiser Chitika shows that last month Apple's iPad was responsible for 81.9 percent of all tablet web traffic in the U.S. and Canada. This is a 1.4 percent increase over Apple's 80.5 percent share in February.
Web traffic on Apple's iPad took a slight dip last February when it fell about one half of a percentage point. However, even that slight decline was from an overwhelming 81 percent web traffic market share to an 80.5 percent share.
According to statistics cited by Apple Insider, Amazon's (NASDAQ:AMZN) Kindle Fire, Microsoft's (NASDAQ:MSFT) Surface, Samsung's (SSNLF.PK) Galaxy Tab, and Google's (NASDAQ:GOOG) Nexus tablets all saw a slight market share increase during the same time period. This led some analysts to conclude that the tablet market was becoming more competitive and that Apple may be losing its market dominance…
However, it appears that Apple's iPad has already reversed this minor dip and is once again trending upwards in tablet market growth as well as overall dominance. Chitika's data was based on 300 million ad impressions gleaned from over 100,000 users who visited 250,000 websites. As Apple Insider notes, this tablet usage data provides a more accurate real-time assessment of tablet usage more than a typical market assessment based on shipment data.
Apple shares rose 1.49 percent to $397.91 in early Friday trading.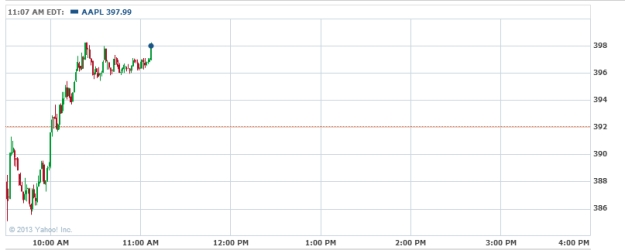 Don't Miss: Rumored iWatch Already Has Interested Customers.