Apple's iPad Tops this Important Ranking–Again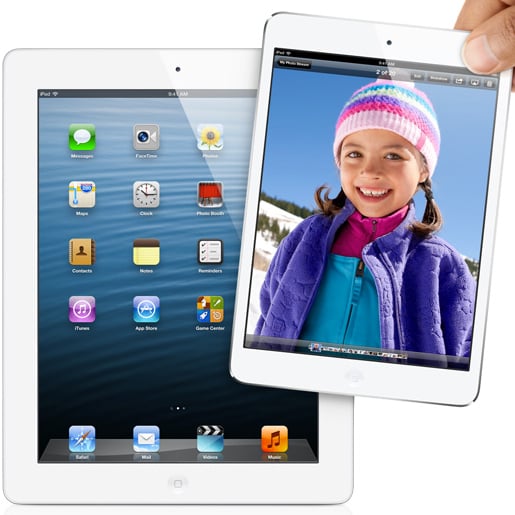 Apple's (NASDAQ:AAPL) iPad is on a roll as it tops J.D. Power and Associates' study of consumer satisfaction in the tablet market – again. For the second year in a row, Apple's iPad was ranked the number one tablet for overall customer satisfaction by this prestigious marketing information services company.
According to J.D. Power's website, the marketing information company measured consumer satisfaction with five ranking categories, which are listed in order of decreasing importance: Performance (26 percent); Ease of Operation (22 percent); Styling & Design (19 percent); Features (17 percent); and Cost (16 percent). On a 1,000 point scale of satisfaction, Apple was given a score of 836 points. Amazon (NASDAQ:AMZN), the manufacturer of the Kindle Fire tablet, was close behind with a score of 829. Samsung (SSNLF.PK) came in third with an overall owner satisfaction score of 822.
However, according to J.D. Power's "Circle ratings for Consumers," Apple received a score of 5. A score of 5 denotes a rating of "Among the best." Apple was the only tablet manufacturer to receive a 5. The highest score among the runner-ups was a score of 3; which was shared by Amazon, Samsung, and Asus. Taiwanese manufacturer Acer received a lowly consumer circle rating of 2.
The study also examined consumers' tablet usage behavior and discovered some interesting trends. Fifty-one percent of tablet owners shared their device with at least one other person, and 46 percent of tablet owners shared their devices with their children. Interestingly, satisfaction levels trended higher among people who shared their devices. Tablet users who did not share their devices averaged a satisfaction score of 824, while those who shared their tablets with one or more people averaged a satisfaction score of 852.
J.D. Power's Kirk Parsons, the senior director of telecommunications services, states via J.D. Power's website that "It is important that manufacturers understand this dynamic and try to provide an exceptional experience for all users since this may improve future business prospects, as high satisfaction through sharing a tablet device may result in owners handing down their tablet to a family member or friend, and the likelihood of repurchasing a new tablet from the same brand and running the same operating system increases."
Another key finding of J.D. Power's study seems to bode particularly well for the Cupertino-based leader of tablet customer satisfaction. The study found that 94 percent of "highly satisfied tablet owners are likely to purchase additional consumer electronic devices from the same manufacturer."
Apple closed up 2.16 percent, or $8.82, at $417.20 on Friday. The chart below shows Apple stock movement throughout the past week.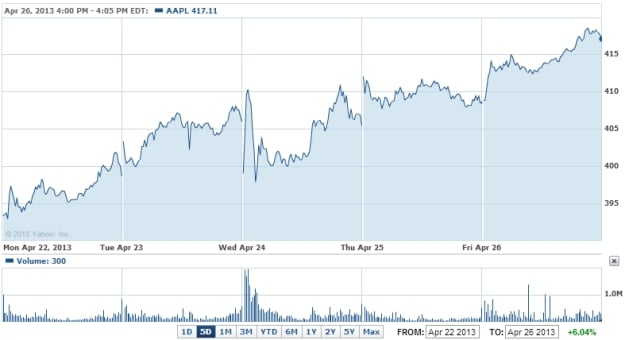 Don't Miss: Apple vs. Amazon: A Tale of Two Valuations.