Apple's iPad Won't Fade Out Just Yet
Apple's (NASDAQ:AAPL) iPad may be loosening its almost-monopolistic hold on the tablet market, but the device is not going away anytime soon. According to a survey by Yankee Group, the iPad was still the tablet most coveted by consumers. Forty-seven percent of all respondents who were looking to buy a tablet were planning on getting an iPad.
No other company even saw double-digit interest. Amazon (NASDAQ:AMZN) and Samsung (SSNLF.PK) were in second and third place, with 7 percent and 6 percent of purchase intentions, respectively. Google (NASDAQ:GOOG) and Microsoft (NASDAQ:MSFT) only managed 1 percent each. Interest in the iPad was 20 points higher than all other manufacturers combined.
Is Apple now a once-in-a-decade buying opportunity? Click here to get your 24-page Ultimate Cheat Sheet to Apple's Stock now!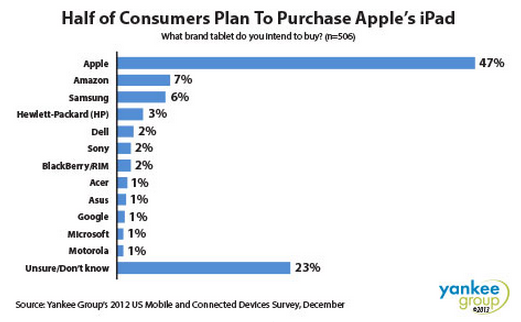 The report did stress that key Apple rival Samsung was planning to make a big push in the tablet segment this year and aimed to double sales to 40 million units. The company unveiled the Galaxy Note 8.0 last month to take on Apple's iPad mini…
"No longer satisfied anymore as the world's No. 1 handset and smartphone manufacturer, Samsung is now targeting an increase of its share on the tablet market," Yankee Group's Boris Metodiev wrote. "The success of the company's Galaxy S range of phones has been spectacular, but the Korean manufacturer is fully aware that the smartphone market is getting closer to its saturation point, as penetrations in North America and Western Europe are around 50 percent."
The stock market is roaring back in 2013. Click here now to discover winning stocks!
Apple's iPad has been the industry leader since it was first introduced in 2010. It is now on its fourth generation, while also getting company from the smaller iPad mini starting late last year. A host of devices from rivals, such as Amazon's Kindle Fire, Samsung's Galaxy Tab, Microsoft's Surface, and Google's Nexus have been launched since the iPad's introduction, but progress has been slow for them.
Don't Miss: Can Samsung Hurt Apple Some More?