Apple's iPhone 5S a Hit in Key Overseas Markets

Apple (NASDAQ:AAPL) boosted its smartphone market share during the first-quarter in several key overseas markets according to the latest sales data from market research firm Kantar Worldpanel ComTech. The increase in market share was driven by strong sales of the iPhone 5S in Australia, Europe, and Japan.
In Australia, Apple's smartphone market share grew to 33.1 percent in the first-quarter of 2014, up from 31.1 percent in the year-ago quarter. Across the big five European markets — France, Germany, Italy, Spain, and the UK — Apple's share of the smartphone market reached 19.2 percent, 0.1 percent higher than the year-ago quarter. Apple's growth in Europe was particularly strong in Spain, where the iPhone maker saw its market share increase to 7.6 percent from 3.1 percent last year.
"Apple regained ground in the first-quarter of 2014, primarily due to the strong performance of the iPhone 5S, growing its sales share in Europe, Japan, and Australia," noted Kantar Worldpanel ComTech global strategic insight director Dominic Sunnebo. "By contrast, Windows had a tough start to the year as a result of its entry-level Nokia (NYSE:NOK) models facing fierce competition from low-end Motorola, LG, and Samsung (SSNLF.PK) Android smartphones."
However, Apple's growth in Australia and Europe was modest compared to its gains in Japan. Apple's smartphone market share in Japan jumped to 57.6 percent in the first-quarter of 2014, up from 49 percent in the year-ago quarter. Kantar's sales data showed that Apple's gains in Japan were even stronger than what the Cupertino-based company reported in its recent March quarter earnings report. According to CEO Tim Cook, Apple's smartphone market share in Japan "reached an incredible 55 percent" last quarter.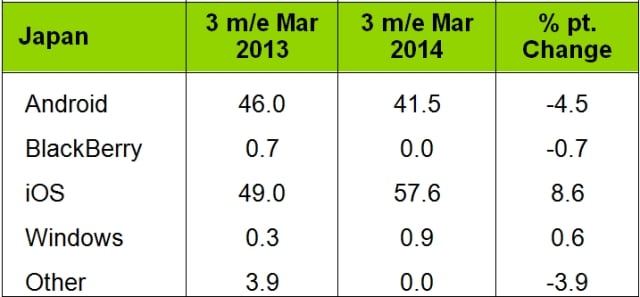 "Japan's love affair with Apple shows no sign of fading," stated Sunnebo. "Even though the iPhone has now been available on Japan's largest carrier, NTT DoCoMo (NYSE:DCM), for a number of months, Apple still accounts for more than 40 percent of sales on the network."
Sunnebo also noted that Apple's strong iPhone sales appear to be having a beneficial spillover effect on the sales of its other major mobile product. "The success of the iPhone is also filtering through to the iPad, with almost a quarter of Japanese iPhone owners also owning an iPad," added Sunnebo. "With smartphone penetration in Japan lagging well behind Europe and the U.S., Japan will remain a key growth market for Apple."
Besides noting Apple's recent market share gains, Sunnebo also briefly touched on the growing popularity of phablets — mobile devices with screens larger than five inches — in China. "It's clear that phablets really are changing the way Chinese consumers use smartphones," noted Sunnebo. "More than one in five phablet owners now watch mobile TV on a daily basis, half do so at least once a month, and this is without widespread availability of 4G. As 4G infrastructure expands in China, the demand for data is going to be unprecedented, paving the way for carriers to boost revenues significantly through larger data packages."
According to Kantar's data, phablets accounted for 40 percent of smartphone sales in China during March. Apple is widely rumored to be releasing its own phablet-sized iPhone later this year. Earlier this year, Apple officially launched the iPhone on China Mobile (NYSE:CHL), the world's largest carrier. If Apple were to launch a large-screen iPhone on China Mobile's growing 4G mobile network, it could become a catalyst for the iPhone maker's growth in this important emerging market.
Follow Nathanael on Twitter (@ArnoldEtan_WSCS)
More From Wall St. Cheat Sheet: