Apple's iPhone Takes Lion's Share of Web Traffic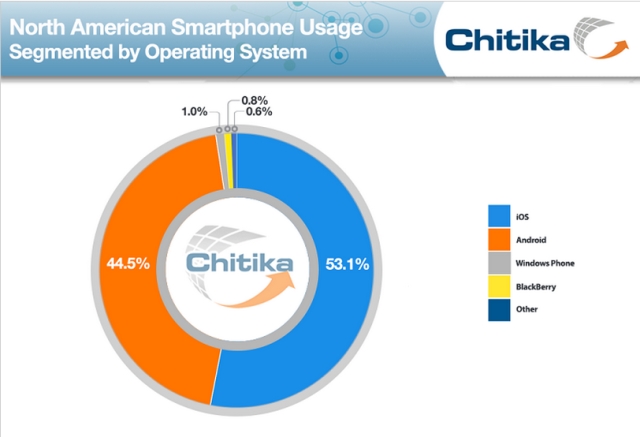 Apple's (NASDAQ:AAPL) iOS mobile operating system accounts for the majority of smartphone Web traffic generated in North America, according to the latest data from online ad network company Chitika. Chitika examined hundreds of millions of U.S. and Canadian online ad impressions during an approximately three-month period that ended on April 30. Based on the impressions derived from its vast network, Chitika estimated that Apple's iPhone accounted for 53.1 percent of the mobile Web traffic during this period.
Android — the open source mobile operating system developed by Google (NASDAQ:GOOG) (NASDAQ:GOOGL) — achieved a second place ranking during the same time period with a 44.5 percent share of mobile Web traffic in North America. Although Chitika's latest study didn't break down Android's market share by manufacturer, a previous study released by the ad network company in March showed that Samsung (SSNLF.PK) accounted for a 55.5 percent share of North American Android-based Web traffic.
Meanwhile, Microsoft's (NASDAQ:MSFT) Windows Phone mobile operating system moved into third place in North American web traffic usage. However, this was primarily due to the continuing usage share decline of struggling Canadian smartphone maker BlackBerry (NASDAQ:BBRY). Although Windows Phone usage remained essentially flat during the three-month time period, previously third-ranked BlackBerry saw its market share slip from over 1.0 percent to 0.8 percent. BlackBerry's decline allowed Windows Phone to claim the No. 3 spot in North American mobile Web traffic share. However, Windows Phone still only accounted for a paltry 1.0 percent of mobile Web traffic in North America. Another 0.6 percent of Web traffic was attributed to "Other" mobile operating systems.
"While Microsoft has worked hard to make Windows Phone a competitive third mobile OS from a functionality standpoint, the operating system's flat rate of growth over the past several months makes it likely that Apple and Google's offerings will remain the frontrunners stateside for the foreseeable future," stated Chitika. In other words, much like the two-horse race between Apple and Samsung in the worldwide smartphone market, the mobile operating system market in North America primarily remains a competition between Apple's iOS and Google's Android.
Interestingly, recently released March quarter data from comScore's MobiLens and Mobile Metrix services showed that Android held a 52.2 percent share of the mobile operating system market in the U.S., while Apple held a 41.4 percent share. Assuming that comScore's exclusion of Canada's smartphone platform data didn't drastically affect the results, it would appear that Chitika's study proves that many Android phones are not used for Web browsing.
In an interview with The Wall Street Journal earlier this year, Tim Cook noted that Apple achieves higher market share results when only "true" smartphones are included and smartphones that are essentially used as feature phones are excluded. The discrepancy between comScore's smartphone operating system market share data and Chitika's mobile Web traffic data seems to confirm Cook's assertion.
Follow Nathanael on Twitter (@ArnoldEtan_WSCS)
More From Wall St. Cheat Sheet: