Apple's iTunes Is a Gold Mine
Apple's (NASDAQ:AAPL) iTunes store — conceived from its inception as a break-even-business — will celebrate its tenth birthday next month, and from the growth the business has experienced in the intervening years, it is clear that description is no longer accurate. The scope of the store has nearly quintupled in the past seven years, its revenues soared to $13.5 billion in 2012, and it generates as much as 15 percent operating margin on gross revenue, a figure that amounts to a little more than $2 billion annually.
As AllThingsD contributor John Paczkowski noted, that is a "hell of a way to break even."
From these simple figures, quite a picture can be painted of Apple's media business. Asymco analyst Horace Dediu wrote in a research report entitled "So long, break-even" that while Apple has stated that it aims to operate the iTunes store at "break-even," the business has grown so quickly in recent years that its "profit-free nature has come under severe pressure." As more media types have been added, costs have increased. But, comparatively, revenues have increased even faster…
The reasoning behind this pattern, according to Dediu, is that the cost of content sales are likely to have been preserved as a ratio of about 30 percent because the vastness of transaction volume — which was estimated at 23 billion item transactions in 2012. This data suggests that Apple has significant economies of scale. If economies of scale exists, then operating costs are spread more evenly and the possibility for the company to generate some operating margin exists as well.
He wrote, "Put another way, at break-even the cost of operating iTunes stores would be about $3.75 billion. It's hard to imagine this level of operational expense for digital content." As this fact has become clearer, Apple has begun to suggest since 2010 that the App Store is run "a little over break-even."
But for Apple, the question is how little is "a little over break-even." Dediu estimated that a 2 percent operating margin is possible for apps and a one percent margin for music. A one percent operating margin from gross revenues implies as much as a $45 million margin. That calculation translates into a $150 million margin for content…
The factor truly responsible for sending Apple's iTunes numbers through the roof was the company's decision to incorporate its Software group into the store's offerings. It is "one of the forgotten heroes of Apple," the analyst commented. Apple software — like Apple Remote Desktop, iWork's Pages and iLife's iMovie and iPhoto — was once sold as traditional boxed software. Now, Apple has made its software packages "download-only," a move that allowed prices to be lowered.
Dediu believes that Apple's software generated $3.6 billion in revenue in 2012; it is a high margin business that grows at a rate close to 20 percent annually. While apps and music have likely surpassed the software business in terms of gross revenues, the unit has an operating margin of about 50 percent, close to that of Microsoft (NASDAQ:MSFT).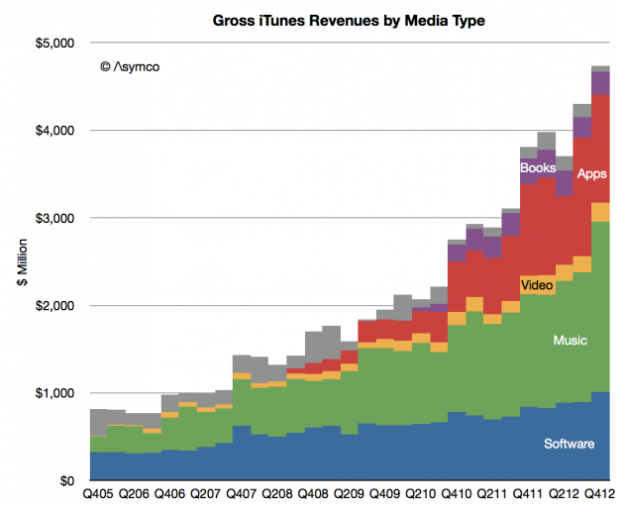 Here's how Apple (NASDAQ:AAPL) traded today: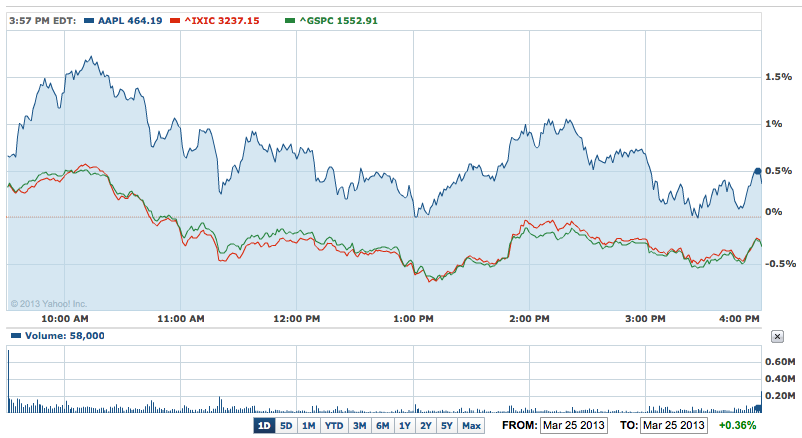 Don't Miss: Will the iWatch Have These Features?