Apple's Little Trouble in Big China
Fallout from a negative Chinese consumer television show report earlier this month that accused Apple (NASDAQ:AAPL) of corporate malpractice towards Chinese consumers continues to plague Apple's reputation in China. This week the government-run China National Radio reported on a notice from the State Administration for Industry and Commerce that reiterated the need for consumer's rights to be protected from companies like Apple that have allegedly violated the law, reports Reuters.
According to Reuters, China National Radio's website states that the government notice mentions Apple, but provides no other specific details. The official State Administration for Industry and Commerce notice pertains to allegations that Apple gives Chinese consumers subpar post-sales customer service. The allegations were originally made on China Central Television during the annual broadcast of the "3.15" consumer-rights show, which is named after the date of World Consumer Rights Day.
An Apple spokesperson via Reuters refused to comment on "regulatory matters."
Despite the negative publicity from government-run news outlets, Apple remains a popular brand in the Chinese market. Some Chinese consumers believe that Apple is receiving unfair criticism from the Chinese government. Soon after the original broadcast of the CCTV show that was critical of Apple, users of China's Weibo social media platform discovered what appeared to be a state-sponsored smear campaign against the Cupertino-based company.
Apple stated via Reuters that "it respected Chinese consumers and that its warranty policies were roughly the same worldwide with specific adjustments to adhere to Chinese law."
Besides most of Apple's manufacturers being based in China, the company also hopes to expand its market growth in the world's second-largest economy in the near future.
Apple closed down 2.08 percent at $442.66 on Thursday. The chart below shows how Apple traded throughout the week.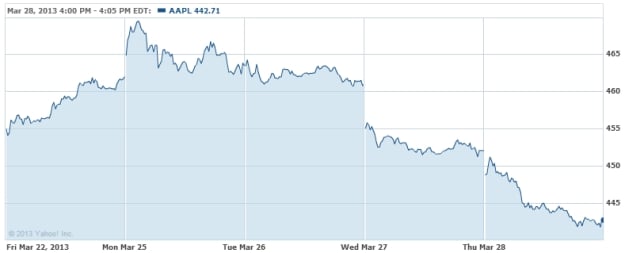 Don't Miss: Are Apple's Struggles in China Just Beginning?